Whether you're new to art journaling or it's something you've been doing for years, you're always going to need ideas for art journal page backgrounds. Today we're going to look at a few different ways you can create awesome backgrounds for the pages in your art journal in just 5 minutes.
I want you to be able to play around with the supplies you've got, rather than having to go out and buy a load of new stuff. For that reason, I've tried to include a range of ways to make a background in your art journal.
So let's get straight into it!
Acrylic Paints
If you want to go bright and bold, acrylics are perfect. You may need to allow for some drying time when painting with acrylics, but this will only be a matter of minutes as they dry fast.
Acrylic Blobs
Decide on two colours you want to use for this effect and mix up the first. Paint blocks or blobs onto the page randomly, leaving blank space for the other colour. Allow this to dry, then mix up the second colour and fill in the white space, overlapping the colours slightly.
You can go as big or as small as you like with the different blocks – it really depends on how busy you want your background to be.
Markers are great for this too, but it'll probably take a little longer than 5 minutes 😉
Messy Acrylics
This is similar to the above but a little less ordered. Take your brush and paint stripes and other marks onto the page, using a range of colours (or just a couple of different ones). Vary the angle of the brush strokes, and add in some scribbly strokes too.
You can let each colour dry before painting with the next or just go straight from one to another if that's how you feel.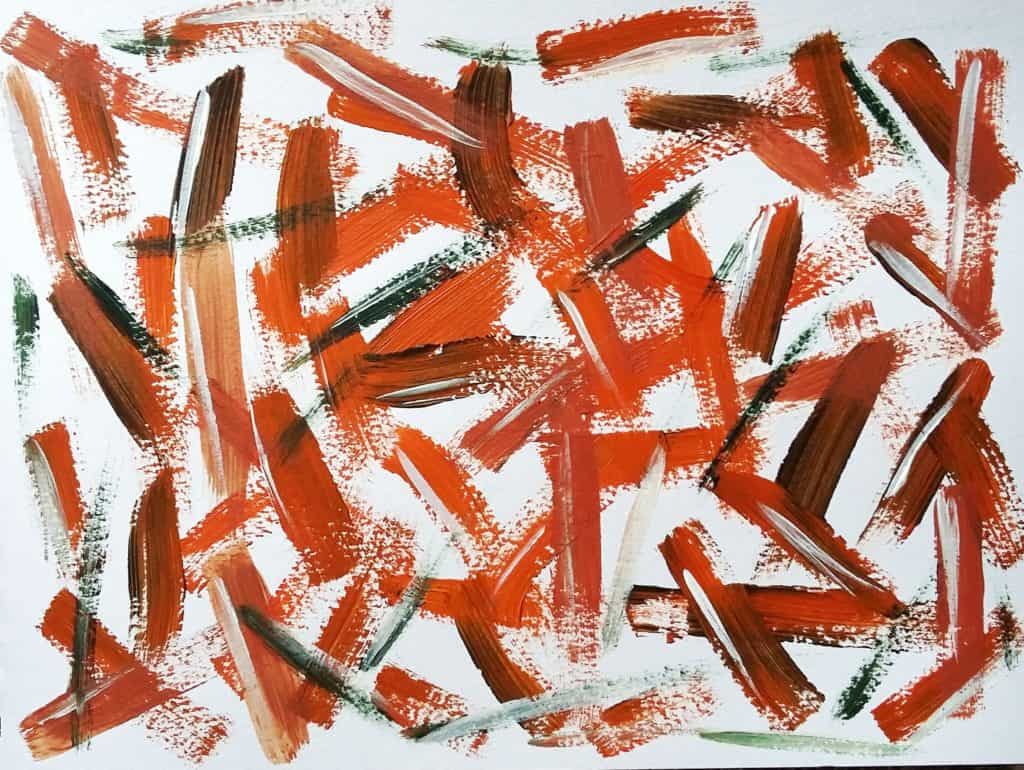 Watercolours
This is a great way to use delicate colour to make a lovely background for a page in your journal. You don't need to have fancy, professional quality watercolour paints for this. Any cheap watercolours will do (including your kids', if you have any!).
Watercolour Wash
Dampen the page with a little plain water, then load your paintbrush with colour and run it over the paper.
You can work one colour from top to bottom and another from bottom to top, blending them in the middle. Or you could do what I did in the picture below and paint a watercolour rainbow!
Paper Scrunch
Another great effect is to scrunch up a piece of paper and dab it on the wet paint. You can experiment with using paper that's designed to be absorbent (such as kitchen paper), regular paper (like standard printer paper), and non-absorbent paper (greaseproof paper or wax paper, for example). This will alter the overall outcome.
Watercolour Blooms
Watercolour blooms are created when two colours bleed together on the page. (I love this effect so much that I've also written about it here, here and here!) As annoying as this effect is when you didn't mean to do it, it makes for some very beautiful artwork when you sit down with the intention of doing it.
Firstly, wet your paintbrush and paint a wash (not too wet) of one colour onto the page. Wash your brush and then pick up another colour, making sure the paint is a bit wetter this time. Paint another section of the page, allowing the second colour to touch the first while they are both wet. The second colour will bleed into the first since it's wetter. When you're satisfied that you've added enough colour, leave the page to dry.
Watercolour Pencils
This works in a very similar way to the above in that it creates a beautiful, delicate colour, but I find it can actually be a little easier to control the colours with pencils.
Pick out the colours you want to use and colour the page how you like. Then apply water to the page to blend out the colours.
You can also experiment with wetting the paper first and then working with the pencils straight onto the damp paper. The colour will be stronger this way.
Paper
There are lots of ways to use paper to make backgrounds for your journal. If you know you are going to want certain patterned paper as a background in your journal, you can actually use that paper in the first place to make the pages.
Paper Collage
Another option is to make a collage of different colours or patterns of paper. Using different paper patterns will make a busier background than some of the other backgrounds I've mentioned.
You could also try using different kinds of paper, such as tissue paper, linen paper, and other textured papers. I've got some handmade paper with tiny dried petals in it, which is perfect for this kind of project.
And rather than cutting the paper to make the collage, why not experiment with tearing it?
Pages From An Old Book
If you have an old book handy, you could tear pieces from a page to make an abstract background. Depending on the old books you have available, you could use the text to tell a story or form a quote, or incorporate an image into your art journal page.
---
There are so many other ways you can create five-minute backgrounds for your art journal. The important thing is to use the supplies you have and see what you can come up with.
What other ideas do you have for super-quick backgrounds for art journal pages? Share them in the comments below!