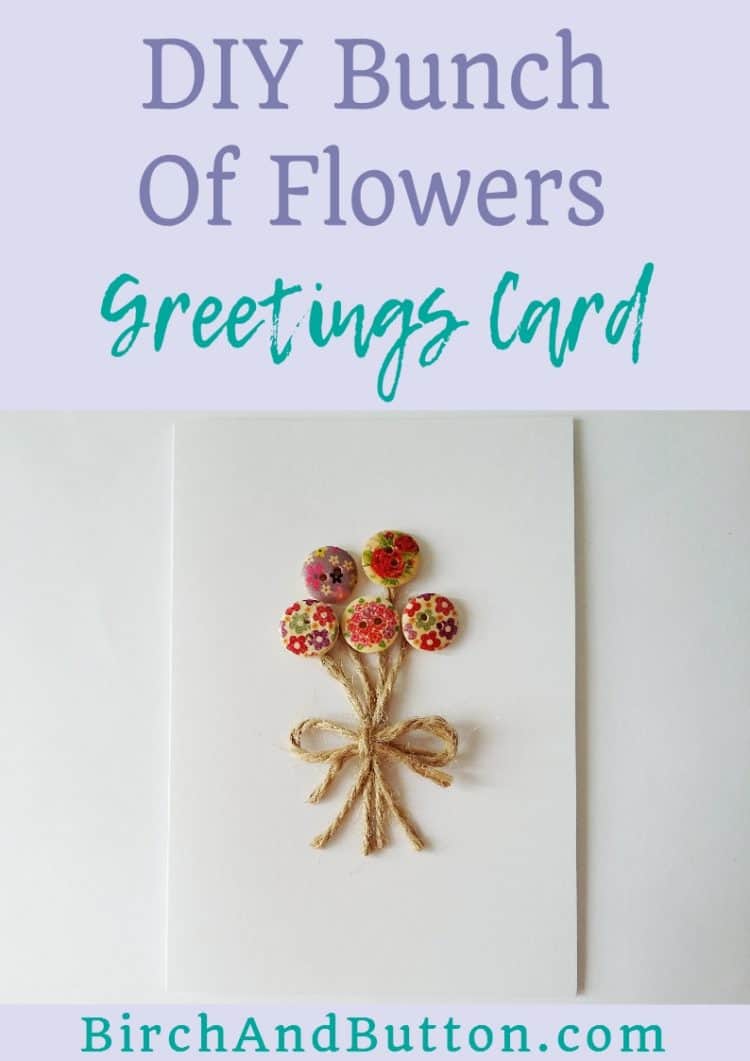 Learn how to make a quick bunch of flowers greetings card that can be adapted to suit lots of different occasions. Read on for the step-by-step tutorial.
This is a really simple tutorial that can be adapted to use whatever you have in your craft supplies (and you know how I advocate using what you already have rather than buying new supplies, especially if you're a craft-supply-hoarder!). If you don't have buttons, you could use shapes cut from paper, sequins, beads, fabric, those small leftover scraps from other projects you've been saving… Likewise with the twine — yarn, ribbon or raffia will all work well instead.
This is a really quick craft, and you'll be able to complete it in a few minutes without any bother. In fact, you could make a whole pile of these in a relatively short amount of time, and you could even have one or two stashed away in a drawer for those occasions where you need a card for something but you don't have time to make one or pop out to buy one.
The card in this tutorial isn't made for any particular occasion, but more as a kind of general note-card like you might use to write someone a letter. If you wanted to make it for a particular occasion, however, it would be so easy to do. Add some letter or word stickers, or get your rubber stamps and ink out! I think it could easily be turned into a "thank you" or "congratulations" card, or adapted for a birthday or anniversary.
DIY Bunch of Flowers Greetings Card Step-by-Step
Supplies Needed
A plain greetings card and envelope
Buttons (or something else for the flower heads – shapes cut from patterned paper, felt shapes, markers to doodle them on the card, etc)
Jute twine (raffia, string, yarn or something else will work too) for the flower stems
More twine or thin ribbon for a bow
Step One
Cut four or five lengths of twine roughly a third of the height of your card. These will be the flower stems. Tie another piece of twine/ribbon around the flower stems in a bow.
Step Two
Glue the tied flower stems onto the front of the card, making sure to fan out the stems as you stick them down.
Step Three
Pick out at least five buttons (or whatever else you're using instead) to use as flower heads. I had some buttons decorated with floral patterns, so I used them. Glue them to the card, covering the ends of the twine.
Step Four (optional)
Add a message with letter stickers or a stamp and ink.
---
If you enjoy making your own handmade greetings cards and writing to the people you care about, you'll love my free Creative Letter Writing mini course!
[convertkit form=4963903]
Save