---
Creativity isn't just about being able to paint or draw well. It's not just about being able to write amazing stories, or even novels. It's not just about sewing clothes, or making pottery on a wheel. All of those things are SO creative, of course, and I'm not taking away from them in any way.
But I want you to think about the less obvious, less celebrated forms of creativity.
If you're wondering what on earth I'm talking about, how about the following examples?
You get home one evening to make dinner, and when you open the fridge there's hardly anything there. But you still manage to put together a nutritious and filling dinner – you just had to get a bit creative.
Your child needs a fancy dress costume. Money is tight, so you decide to DIY it. You just need to get a little creative to do so.
Your nan wants help replanting a flowerbed in her garden. She wants it to be really colourful but isn't sure how to plan it out – so you roll up your sleeves and get creative.
It's your friend's 30th birthday, and you've volunteered to make the cake for the party because, you know, you do a bit of baking. She loves shoes, so everyone thinks it'd be a great idea to make a stiletto-shaped cake. Daunted, but not wanting to be beaten by a cake, you take a deep breath and…get creative!
Have I made my point yet? 😉 There are many ways every day that we get creative – and I swear half the time we don't even consider that we're being creative. Even solving a problem can be creative!
So if you want to get more creative, I have just the thing for you – and best of all it's completely free!
[convertkit form=4816667]
The Get Creative Challenge is an email course that takes place over 30 days. You'll receive ten emails over that time, each one with a challenge for you to help you think and act more creatively.
Here's a sneak preview of the subjects covered by the ten emails:
Write A Letter
Read A Different Book
Go For A Walk
Make A Collage
Daydream
Bake A Cake
A Little "Me Time"
Handmade Presents
Have An Early Night
Make A Smoothie
Did I mention there are freebies…?
---
---
I've made a handy checklist so you can keep track of the steps as you work through the challenge. To get the checklist, just click on the image above – no email address required.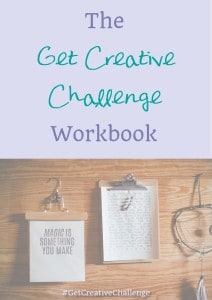 ---
I've also made a workbook for you. This will help you come up with and record ideas so you don't forget them! You'll receive this in the introduction email after you've signed up.
---
So – are you ready to join the #GetCreativeChallenge?
[convertkit form=4816667]
Save
Save