If there are three things I love, it's making things, painting things, and reusing things. So when I saw (on Pinterest of course) that someone had made an unwanted wooden spice rack into a nail polish organiser, I knew I could combine several of those aforementioned loves and have a go at making my own.
Plus, it had often occurred to me that there's got to be a better way to store my bottles of nail polish to make it easier to find the colour I'm looking for, not to mention saving space too.
I didn't have a wooden spice rack handy, so I decided to keep a lookout in my local charity shops for one that someone else had donated. In the end, my partner's mother found one in the charity shop in her village.
It had clearly never been used, and the wall fixings were still in their little packet. Even better, it was only £1.50 (and that actually turned out to be the entire cost of this project too, since I had everything else I needed).
I'm really pleased with how this project turned out. If you want to have a go at this project yourself, take a look at the steps below and I'll walk you through how I did it.
Step-By-Step Instructions
Materials Needed
Wooden spice rack
Multi-purpose filler (optional)
An old plastic credit or loyalty card (optional)
Sandpaper (optional)
Paint (any kind that paints well onto wood)
Paintbrush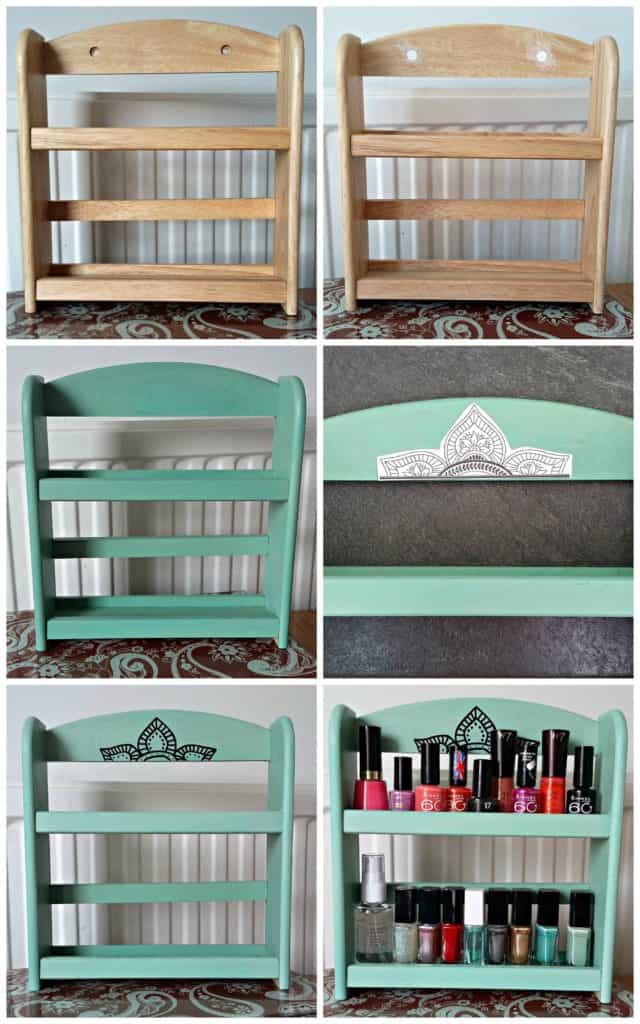 Step One
If your spice rack has holes in it like mine did, and you've decided not to fix it to the wall when you're finished, you might want to fill the holes first. Obviously you'll want to leave the holes if you still need the option to attach it to the wall.
I just used some multi-purpose white filler since I planned to paint the spice rack and wasn't worried about matching the filler colour to the wood colour.
I applied the filler with an old student card I found in a purse I hadn't used in years. It was perfect for this task and much better than buying a specific tool I may only use a handful of times (hey, I'm all about being creative with what I have!).
It took two 5-minute sessions of filling to fill the holes adequately, and I made sure to let the filler dry in between. Follow the instructions on your filler tube and you'll be fine.
Step Two
I managed to smooth the filler off when I was applying it, so I was happy that I didn't need to sand it down. You may need to do a little light sanding when the filler is properly dry to get a really good smooth surface.
Step Three
It's now time for the first coat of paint. I decided to go for a nice pale green, which I mixed up using titanium white and hooker's green acrylic paints.
I used acrylic paints as I have loads in my art stash, and I wanted to get stuck into this project without having to go out anywhere to buy new supplies! If you have left over furniture paint, you can use that, and I'm sure chalk paint would be another great option.
When you've painted the entire surface of your spice rack, leave it somewhere safe to dry.
Step Four
Depending on how well your paint covers, you might need to do a second (and possibly even a third) coat of paint. I definitely needed to apply a second coat, but I was happy with how it looked after that second coat.
If you want to distress your spice rack, you could do two different colours of paint so that when you sand the top coat down a little, the underneath colour shows through. I decided to leave mine a solid green colour.
Step Five
At this point, rather than leaving the spice rack plain, I felt there was something missing. I decided that a little pattern on the top section would really finish it off. I hopped onto Google images for inspiration and printed out a pattern I could adapt and trace onto the wood.
I just wasn't confident that I could draw an even pattern freehand, and I really wanted it to be central too! If you have a stencil you can use, this would be ideal.
I drew over the parts of the design I wanted to use with a pencil, then I turned it over and placed it on the spice rack where I wanted the pattern to be. I then used the other end of my mechanical pencil to rub over the back of the pattern to make the pencil lines transfer onto the painted wood.
I then went over it with a permanent black Sharpie to make sure the design would stay put and not rub off. If you have a steady hand you could use a thin paint brush and some paint. I personally think a pen is much easier to control, particularly if your pattern is very intricate.
---
And there you have it! A new(ish!) storage stand for your nail polish, cosmetics and skincare products, for just a small cost and relatively little time.
Let me know if you have a go at this project as I'd love to see what you come up with!