Spark Your Creativity printable creative workbook
The mood to be creative sometimes strikes when you least expect it. Maybe you just really want to make something, or draw something.
But what do you do when you want to create something but you don't know what you want to create?
If you're the kind of person who shrugs and picks up their phone or heads for Netflix instead, you're in the right place.
You're also in the right place if you head to Pinterest for inspiration, and an hour later you've saved a bunch of pins but not actually acted on any of them…
The Spark Your Creativity printable workbook is perfect for when you just don't know what you want to create.
If your fingers have that creative itch and you don't have a specific project in mind, grab this book and get to it!
There are forty exercises in this workbook, including drawing, writing, crafting, painting, making collages, and much more!
This creative workbook is available as an instant download for you to print at home. Providing you have access to a printer, you can go from not being sure what to create to getting on with some creative projects in just minutes!
Another great benefit of buying this printable version is that you can reprint your favourite pages again and again for just the cost of the paper and printer ink.
About Stacey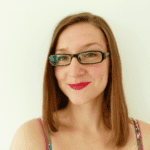 I'm Stacey and I'm a blogger, abstract artist and freelance writer. My aim is to help busy people feel inspired and get more creative with tutorials, hints and tips.
I live in Cardiff with my partner and dog, and in my free time you'll find me hiking, reading, painting or sampling a craft beer or two.