What could be cuter and more spring-like than these little eggshell candles? This project also ties in nicely with Easter, which is coming up soon. If you are having family round for an Easter dinner, I think these might make a lovely table centrepiece!
Now – first things first. How is best to go about collecting the eggshells? I've seen it suggested that you turf the eggs out of their shells just so you can make these candles. If you do this, please have a plan for how to use the eggs before you render them homeless. Otherwise, they may well get forgotten and then go off, which would be a shame and a waste.
My suggestion would be to crack your eggs carefully when you're making a cake or an omelette, maybe using a knife for ease, and then wash and dry the shells in preparation for making the candles at a later date. This is what I did when I was making peanut butter brownies (recipe coming soon!).
When clean, the shells can be dyed with food colouring, or you could also paint them. Use your imagination and make them fit with your colour scheme. Bright colours and patterns might be fun too. Of course you can keep it natural if you prefer, and that's what I've chosen to do – after all, nature provides us with eggs in many different shades as it is!
I make a lot of candles so I have a big box of soy wax flakes in the house. Soy wax is readily available, reasonably priced, and much cleaner burning than paraffin wax. Just make sure you buy sustainably produced wax to be environmentally friendly.
On the other hand, if you don't want to buy wax you can use up any candle ends you have lying around the house. Just bear in mind that if they're dyed or scented, you could end up with a muddy colour or strange scent when they combine!
Finally, if you've read to this point and decided that this whole candle-making malarkey sounds like too much hard work, you could just put tealights in coloured eggshells for a similar effect!
Now on to the serious stuff…
Safety tips for making candles
Never leave melting wax unattended.
Hot wax can burn, so this isn't an activity for children, and keep pets well away.
Cover your work area and clothing to protect against any spillages.
Never overheat wax; it doesn't boil to signify that it is too hot, it will just catch fire.
In the unlikely event of a fire, DO NOT try to dowse with water but cover the fire with a damp cloth or a fire blanket.
Supplies needed
Soy wax flakes (container blend ideally)
Ready prepared votive wicks
A clean jam jar
A double boiler
An egg box
How to make eggshell candles
Step one
Make sure your eggshells are clean and dry, then stand them upright in an egg box. (I'd recommend you use an egg box rather than egg cups as that way it doesn't matter if you spill any wax when you pour the candles.) Make sure the shells are as level as possible (although you can adjust this after pouring the wax to make sure that it sets level).
Step two
Measure out the soy wax flakes into the jar. I used roughly 25g per eggshell (if your eggshells are huge, you may need to allow a little extra to fill them).
Step three
Melt the wax in a double boiler.
Step four
Take the wicks and dip the sustainer (the metal bit at the bottom) into the wax and place it in the shell, making sure it's central. Leave it to set for a minute or two.
Step five
Pour the molten wax into the shells. A funnel or small jug will make this easier. I like to use a jug, and you can get them really cheaply in Wilko or the major supermarkets if you're in the UK.
Step six
Leave to set for at least two hours, trim the wicks to around half a centimetre, and then your candles are ready to light.
They look great dotted around the room in eggcups.
Sign up for my monthly emails of creative tips, tutorials and DIYs and get 31 free creative prompts!
You can unsubscribe at any time
About Stacey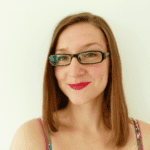 I'm Stacey and I'm a blogger, abstract artist and freelance writer. My aim is to help busy people feel inspired and get more creative with tutorials, hints and tips.
I live in Cardiff with my partner and dog, and in my free time you'll find me hiking, reading, painting or sampling a craft beer or two.