Painting simple leaves needn't be tricky. If you want to learn a quick and easy technique to paint simple leaves with acrylic paint, read on!
First things first: we're not going to be botanically accurate or anything here. These aren't the most detailed, realistic leaves you've ever seen in your life.
What we're going to be creating is simple, impressionistic leaves. That means we're giving the impression that these brushstrokes are leaves, and our wonderful brains will do the rest when we look at the finished piece.
So with that out of the way, these leaves are super simple but really effective. And the technique isn't a whole lot different from my tutorial on painting simple flowers with acrylics.
The brush stroke is basically a squish then a flick. You squish the brush down onto the page and then flick it downwards. So technical, I know… But after a bit of practice, you'll be able to paint these leaves with no bother at all.
I used a fairly small bright brush (or a short flat, depending on how you know it). I use this kind of brush for quite a lot of painting techniques as it's what I'm comfortable with and I'd encourage you to do the same. Just make sure your brush has stiff enough bristles for acrylic paints.
I painted the example leaves with a green made from phthalo blue and lemon yellow. You can use a ready mixed green if you like. To be honest, it doesn't even have to be green…
You know me, my mantra is to use what you have!
Sign up for my monthly emails of creative tips, tutorials and DIYs and get 31 free creative prompts!
You can unsubscribe at any time
How To Paint Simple Leaves In Acrylics
Supplies needed
Acrylic paint in your chosen colour
A small paintbrush suitable for acrylics (one with stiff, springy bristles)
Some acrylic paper or other thick paper/thin card
Regular leaf
When I'm painting a regular leaf shape I like to paint two brushstrokes. You may want to adjust your brush size to accommodate this, especially if you're painting larger leaves.
Start by loading the brush with paint.
Squish it down onto the page before painting a small curve that ends with a flick. I used the side of the brush rather than the flat of it.
Repeat this from the same starting point but curve the other way, and try to make sure the flick ends at the same end point. The flick creates the pointy part of the leaf.
Paint a thin line for the stalk and add a stem too if you like.
Play around with placing the strokes at different angles to give different perspectives.
Simple fern
Start by painting a thin line for the stem.
To paint the leaves, we need to do the same squish and flick as with the regular leaf but this time just use one stroke per leaf. Again, I used the side of my brush. Do this multiple times to make pairs of small leaves all the way down the stem.
Make sure there's a leaf at the very end of the stem.
As with the regular leaves above, it makes sense to play around with perspectives and colours. You can also try curving the stem, or making a smaller or larger scale fern.
And there you have it. Those are my tips for how to paint simple leaves with acrylics. Do you have any ideas or techniques to add?
Ready to learn more about acrylic painting? Check out this article: Acrylic Painting Terms: A Glossary For Beginners!
Sign up for my monthly emails of creative tips, tutorials and DIYs and get 31 free creative prompts!
You can unsubscribe at any time
About Stacey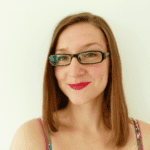 I'm Stacey and I'm a blogger, abstract artist and freelance writer. My aim is to help busy people feel inspired and get more creative with tutorials, hints and tips.
I live in Cardiff with my partner and dog, and in my free time you'll find me hiking, reading, painting or sampling a craft beer or two.