If you want to make the most of the blooms in your garden over the coming months, why not press some and dry them out to use in future craft projects? Read on to learn more about how to press flowers step-by-step.
Dried flowers are a great addition to your craft stash as they can be used in so many different crafts.
They're fantastic for making quick but pretty cards, and they make a great addition to stationery.
You could also make your own dried flower art by arranging them in a frame. Either use a regular frame or try one with glass in the front and the back. I think dried flowers would look great displayed like that!
It's possible to buy flower presses, and I was actually given one of these as a present a couple of years back.
It's basically just two pieces of wood with a bolt and wingnut in each corner, so you could easily make your own if you felt like it.
As useful as a flower press is, it's really not necessary, and two heavy books will work just as well!
Aside from that, all you need is a few sheets of paper. Regular printer paper is fine.
Just try to use paper that doesn't have any texture, as it could imprint onto the flowers (so avoid kitchen paper).
You could even slide the flowers between the pages of a book, and then place another book on top to add some extra weight.
Just be sure you don't mind sacrificing the book you choose to press the flowers in for your project, since its pages are likely to crinkle up due to the moisture in the flowers.
The best flowers for pressing
For the best results, there are a couple of things you need to think about when picking flowers to press.
Firstly, how delicate or solid is the flower? More delicate flowers and those with only one row of petals will press better than thicker ones with multiple layers of petals.
The next thing is to bear in mind how brightly coloured the flower is. Flowers lose a little of their colour and vibrancy when they're dried, so choose flowers that are as brightly coloured as possible.
Flowers that press well include:
Pansy
Larkspur
Cosmos
Viola
California poppy
When you pick the flowers, make sure they're dry. This means letting the morning dew dry out, and not picking flowers immediately after rain.
You should also select blooms that are whole and unblemished to ensure the dried flower is as pretty as possible.
Check out my post on picking natural objects for use in crafts for a few more hints and tips.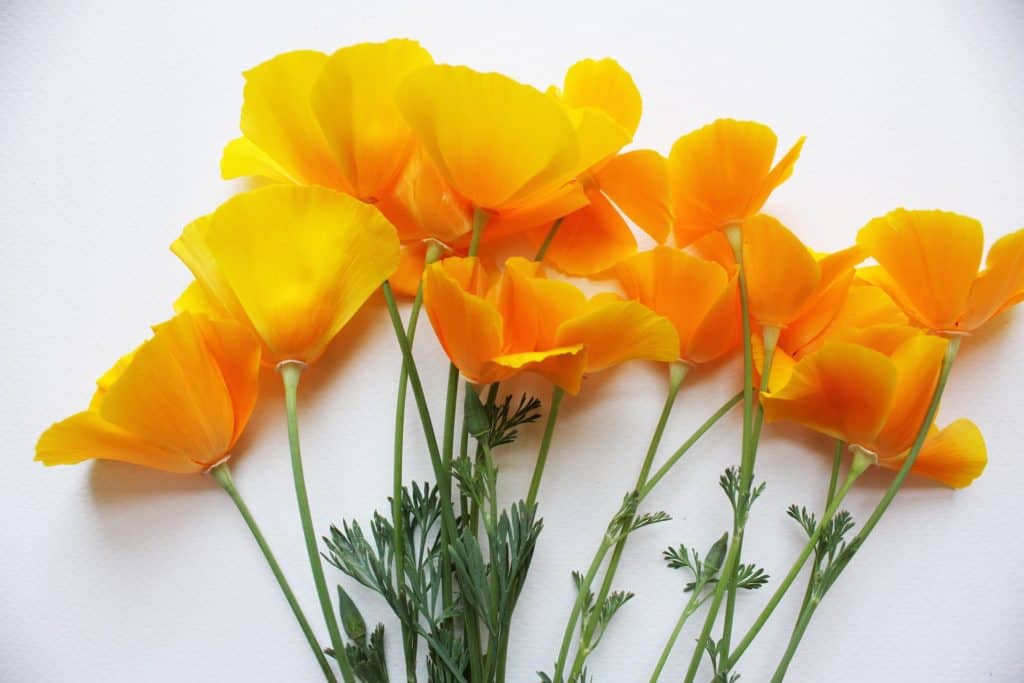 How To Press Flowers To Use In Crafts
Supplies needed
A selection of flowers
Some printer paper
A couple of heavy books
Step One
Place a piece of paper on top of a book and put the flowers face down on top.
Put another piece of paper on top, and another book or two on top of that.
Place each item down carefully so as not to disturb the flowers.
Step Two
Put the stack of books somewhere they won't be disturbed for two weeks.
Step Three
After two weeks, remove the books and lift the top sheet of paper carefully. If the flowers are dry, remove them from the paper.
Do this very carefully as the dry petals will be extremely delicate and prone to breaking.
If the flowers aren't dry yet, replace the paper and books and check again in another week or so.
Place the dried flowers in an airtight bag and store out of direct sunlight until you're ready to use them.
---
I've also seen that it's possible to press flowers in the microwave, but I've not tried that before. If you have, could you share in the comments how it went for you?
I'll investigate further and share more about that if I find it easy to get good results since my experiences with anything microwave-related have been hit and miss in the past!
In the meantime, have fun pressing flowers and be sure to get creative with the kinds of projects in which you might use them 😊