If you feel like practising your drawing skills with a festive cartoon reindeer, this is the blog post for you!
This cartoon reindeer has a bit of a back story. It started off life many years ago when I was still at school and had to design and make a project for my woodworking class. I can't remember exactly why I chose a reindeer for my project…
All I know is that I drew the shape of the reindeer onto the MDF (I think it was MDF anyway) before cutting it out (with help, I'm sure!) and painting it. I also gave him a 3D red nose from a disc of wood painted red and glued to his face.
I was and still am very proud of that reindeer, and I see him every year still when Mum unpacks her Christmas decorations. He stands on the fireplace or mantelpiece, always looking ridiculously cheerful.
So here's the how-to for a much more straightforward project. Let's draw this happy cartoon reindeer!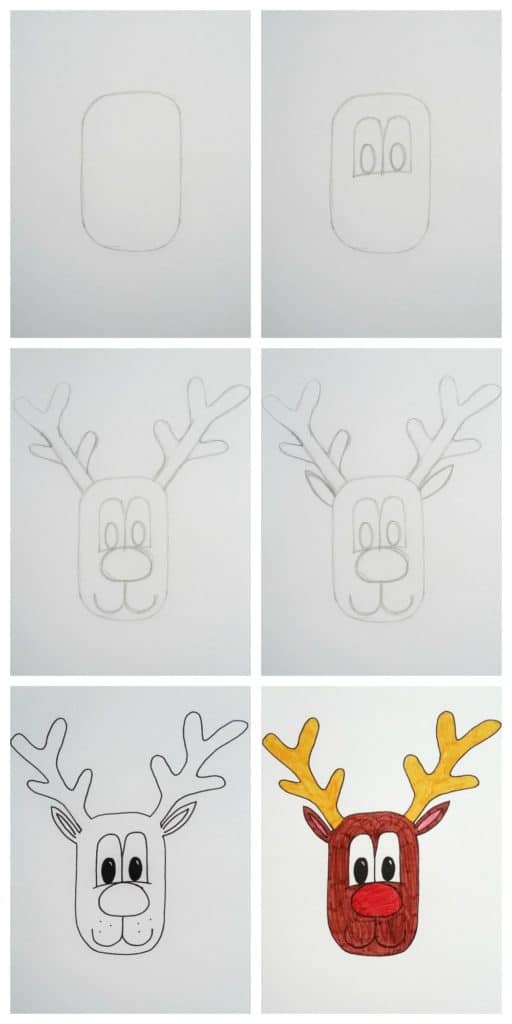 Other than just being something fun to draw, this reindeer would make a great addition to many craft projects. He'd be great on the front of a Christmas card, on a gift tag, made into a garland and strung across a shelf or doorway, to decorate gift wrap or anything else you can think of!
I chose to colour my reindeer with markers. Looking back, I'd probably have used pencils instead. I often find I like the idea of colouring with markers, but when I come to do it, I don't actually enjoy the process and tend to rush it. I also don't tend to colour very evenly with markers. Anyway, it's obviously up to you what you colour with, so choose whatever you like to use best.
If you want to outline first, make sure you use a pen that won't smudge when you colour the reindeer. This is particularly important if you're using markers or watercolours or some other wet medium. It's so frustrating to end up with a smudged outline and muddy colours because of that one simple mistake.
And yes, I'm speaking from past experience… 🤦‍♀️
Sign up for my monthly emails of creative tips, tutorials and DIYs and get 31 free creative prompts!
You can unsubscribe at any time
How To Draw A Cartoon Reindeer
Supplies needed
Step one
Start by drawing a rectangle with rounded corners. This will be the reindeer's head.
Step two
Draw a large pair of cartoon eyes by drawing a loopy M with a line underneath. Give the eyes black pupils.
Step three
Draw a slightly flattened circle under the eyes to be the nose. (This isn't just any cartoon reindeer – this is the main man, Rudolph.)
Add in a mouth by drawing a number 3 on its side.
(I forgot to take a photo before I drew the antlers, but hopefully you get the idea!)
Step four
We now need to add the antlers. Start at the top "corners" of the head and draw a Y-shape for each antler. Then add a couple of extra bumps along the main stem of the antlers to make it look a bit more antler shaped!
Step five
Add a couple of ears just below the antlers. To do this, just draw a very simple leaf shape for each ear.
Step six
It's up to you whether you colour first or outline first. I chose to outline first since my pencil sketch was fairly messy and I wanted a firm outline to colour within.
Don't forget to erase your pencil lines when you've done the black outline.
When you've coloured and outlined your cartoon reindeer he's all finished!
And if you'd like to try another festive drawing project, why not learn How To Draw A Gingerbread Man?
Sign up for my monthly emails of creative tips, tutorials and DIYs and get 31 free creative prompts!
You can unsubscribe at any time
About Stacey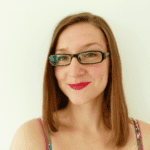 I'm Stacey and I'm a blogger, abstract artist and freelance writer. My aim is to help busy people feel inspired and get more creative with tutorials, hints and tips.
I live in Cardiff with my partner and dog, and in my free time you'll find me hiking, reading, painting or sampling a craft beer or two.