A perfect cold weather drawing project, this cute wintery penguin takes much less time to draw than you probably think. Learn how to draw it in this blog post.
Well I don't know how the weather is where you are, but here in south Wales it's flipping freezing.
I'm not complaining though – I love these sunny, frosty days. Much better that than mild and rainy… And on a clear morning, the sun rises at this time of year are just spectacular.
All the cold weather is inspiring wintery projects. And that definitely goes for this cute, wintery penguin, all wrapped up in his ear muffs and scarf. (Not that penguins have ears to keep warm, I know… Just humour me 😅)
If you're not into cutesy, this drawing may not be your thing, but I couldn't resist drawing a happy expression on his face. After all, penguins like the cold, right?!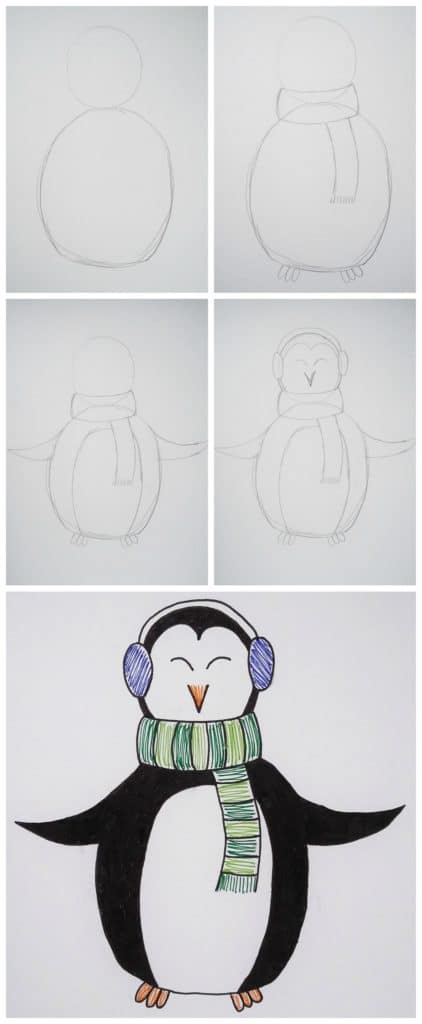 Sign up for my monthly emails of creative tips, tutorials and DIYs and get 31 free creative prompts!
You can unsubscribe at any time
How to draw a cute penguin
Supplies needed
Step one
Draw two circles, one on top of the other. Make the top one smaller than the bottom one, like a typical snowman shape.
Step two
Draw two feet poking out from under the bottom circle. I just drew three toes for each foot.
Now draw the scarf. To do this, draw a slightly curved rectangle over the area where the two circles meet, then draw another curved rectangle hanging down from it.
Step three
Add the wings. These are just two elongated triangles coming off the body.
Also at this stage add a curved line (an upside-down U) on the penguin's belly to mark where the black and white feathers separate.
Step four
Now we need to add some detail to the face. A V makes the beak, and two small curved lines at an angle become the eyes.
I also added a line on the head to show the separation of black and white feathers. This is a curved line that runs just inside the top of the head but comes down a little lower into a point in the centre.
Draw on a pair of ear muffs too, if you like. I drew a slightly squashed oval on either side of the head and a curved line over the top to connect them.
Step five
Now we'll bring the penguin to life with a bit of colour and a black outline.
I coloured the ear muffs blue and the scarf dark and light green stripes. The beak and feet are orange.
I then coloured the rest of the penguin black, leaving his face and belly white.
And that's how to draw a cute penguin! I hope you enjoyed this tutorial 😊
Sign up for my monthly emails of creative tips, tutorials and DIYs and get 31 free creative prompts!
You can unsubscribe at any time
About Stacey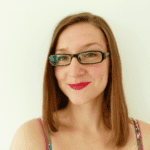 I'm Stacey and I'm a blogger, abstract artist and freelance writer. My aim is to help busy people feel inspired and get more creative with tutorials, hints and tips.
I live in Cardiff with my partner and dog, and in my free time you'll find me hiking, reading, painting or sampling a craft beer or two.