The time of year has arrived where we inevitably spend more time indoors. We think more about getting cosy and comfortable, snuggling up with a hot drink and the things that make us happiest. We want to beat the cold and dark, and feel content and secure. That is where hygge comes in.
You may or may not have seen all the references to hygge floating about the internet recently. I certainly did, and being the inquisitive person that I am, I instantly hopped on Google. Hygge is a Danish word that is pronounced hoo-gah and doesn't translate into one English word.
Although it's difficult to boil it down into one sentence, hygge is about feeling content and cosy. It's about your general wellbeing. Life's simple pleasures make hygge happen. It doesn't have to be fancy or elaborate in any way.
My interpretation is that it's that feeling I get when I finally sit down at the end of a busy day. I've just had a shower, I'm wearing my comfiest, cosiest clothes, I have a cup of tea and a good book, there's a candle burning in the background, and I let out a happy sigh.
It seems to me that hygge can vary greatly from person to person. It's very much about what makes you feel content and happy. If you feel relaxed and at ease in your surroundings – that's hygge.
There are a few books on the subject if you want to learn a bit more about hygge and how to embrace it in your life. I've just finished reading this one actually, and it was a very interesting read.
I'm not going to claim to be an expert in hygge, but having read a bit about it just recently I've realised that there are lots of things we can do to invite more hygge into our lives! This is true for anyone, but I feel like it's especially relevant for us creative types. Not only can we craft our way to hygge, but the actual creative process will add to that feeling too.
So let's look at some ways that we can create more hygge in our lives.
Sign up for my monthly emails of creative tips, tutorials and DIYs and get 31 free creative prompts!
You can unsubscribe at any time
Light Candles
There's something about candles that, to me, makes them the ultimate contributor to hygge in the home. The soft, flickering light that's somehow mesmerising. The scent, if you're burning fragranced candles. It's not too tricky to make your own and it's a very rewarding craft to get into. Homemade candles also make fantastic gifts. Spread the hygge!
Here are some ideas for you to try:
Do Some Baking
Baking is an activity that can create a lot of hygge – at least, it does for me! Not only is there the creative aspect of baking, but there's the gorgeous smell that permeates the house (fresh bread or cinnamon cookies, anyone?) It's a great activity to do with others, and then you get to share your yummy creations when they're baked. Sounds to me like it ticks all the boxes, and it needn't be tricky!
Here are some ideas for you to try:
Make A Blanket (or something else to make you feel cosy!)
So you knit or crochet? Maybe you like to sew? Either way, there are many different ways you can make a blanket, something to wear, or a new cushion cover to make an evening on the sofa with a good book that much more cosy.
Here are some ideas for you to try:
Cook A Meal For Loved Ones
Whilst embracing hygge can be an individual activity, bringing people together is another way it can be achieved. Eating a meal, no matter how simple or intricate, brings people together and invites conversation and laughter. Cooking that meal can be as creative a process as you want it to be, too.
Here are some ideas for you to try:
Relive Old Memories
Looking back through a photo album is one way to relive old memories and invite that warm feeling into your heart. Another great way to do this is to make a scrapbook of various events, devoting a page to a particular occasion.
For some amazing ideas and inspiration check out these search results on Pinterest.
Devote Time To Your Hobbies And Interests
Life shouldn't just be about responsibilities and obligations, even though it can feel like it is sometimes. It's so important to have some me-time in which you really lose yourself in your favourite leisure activities.
Regardless of if that's reading a book, photography, painting, papercraft, knitting, hiking, yoga, dancing… Whatever you like to do. The important thing is to just get on and do it, and feel the hygge embrace you! Consider trying something new too.
Bonus points if it involves turning off the TV and getting together with loved ones for some quality time. (Actually, quality time with yourself is equally valid, but the bonus points for switching off the TV still stand!)
And did you know hygge isn't just for the winter? Read this article to find out more: How To: Hygge In Summer
Sign up for my monthly emails of creative tips, tutorials and DIYs and get 31 free creative prompts!
You can unsubscribe at any time
About Stacey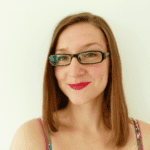 I'm Stacey and I'm a blogger, abstract artist and freelance writer. My aim is to help busy people feel inspired and get more creative with tutorials, hints and tips.
I live in Cardiff with my partner and dog, and in my free time you'll find me hiking, reading, painting or sampling a craft beer or two.