No matter how much you love spending time creating, sometimes life just gets in the way. Whether that's the norm for you or you're just going through a particularly busy spell at the moment, here are five tips to help you get creative when you're busy.
This blog post was inspired by a change in my life a few years back, when I started a new job. I didn't think it would mean much change, certainly where the blog was concerned. I was so wrong!
Although my new colleagues were really welcoming, as an introvert I found fitting in to a new company and new role exhausting. In the beginning I came home completely worn out and didn't feel like I wanted to plan or write any blog posts.
And if I had ideas, the dark nights and dreary weekends made photographing projects much harder. Ah, winter…
Eventually I realised I'd been seriously neglecting my creative side, to the point that I was craving some creativity in my life. I wanted to make something, or draw something, or paint something.
So I did. And I loved it. It felt so good to be creative again and it instantly made me feel better if I'd had a stressful day.
Remind me again why I stopped?
So in case you ever find yourself in the same position as I was back then, here are five tips to make it easier to be creative, even when you're super busy.
So let's get straight into it!
Sign up for my monthly emails of creative tips, tutorials and DIYs and get 31 free creative prompts!
You can unsubscribe at any time
1. Make sure you collect inspiration when you see it
Making sure you have plenty of inspiration is something I go on about all the time.
Make a note of anything you see that's inspiring, whether it's a colour, a pattern, a craft, a tutorial you want to try, or something else entirely. That way, when you get some time you can just create.
Depending on the kind of person you are, you might choose to keep a:
Pinterest board of inspiration
Folder on your phone or computer full of screenshots
Scrapbook full of different inspiring collages (even collecting inspiration can be a creative activity!)
2. Keep a small box or bag of art/craft supplies ready to save time
You have some spare time and you think you'll spend it doing something creative… Then half an hour later you're still getting your supplies out of the cupboard/drawer/garage.
To save time on getting everything out and packing it all up again at the end, you might like to keep a small stash of supplies in a box or bag that's easy to get to.
Depending on the creative thing you like to do, this might be a:
Box with a small sketchbook, different grades of pencils and an eraser
Box with some watercolour paper, a small set of watercolours and a water brush
Bag with your current knitting project, including the pattern, spare needles, and yarn
3. Think of ways you can use your commute creatively
If you have a daily commute to work, it can feel like wasted time. I get the train, but you might walk, cycle, take a bus or drive.
Some examples of things you might do include:
Browsing Pinterest on your phone for inspiration
Using a sketching app on your phone or tablet
Carrying a mini sketchbook and pencil in your bag
You might find this more difficult if you drive or cycle to work, but your commute can still be good thinking time. Just be safe, whatever you do!
4. Take time out on your lunch break to be creative
Your lunch break is totally necessary to give you a break from your job. But the chances are you don't use all the time you're given just eating your lunch. I bet you spend quite a lot of the rest of the time on your phone. I'm not saying this is a bad thing, but you could definitely use some of that time in a creative way instead.
The examples in the section above apply really well here too. You could also experiment with using the camera on your phone to take photos. Try different compositions in the office or kitchen, or better still get out and about and take photos of trees and flowers.
Even in a city there will be lots worth taking photos of, like interesting buildings, textures, colours and patterns.
5. Get up 15 minutes earlier
It might not sound like a lot but it's enough to create something quickly, whether it's a drawing, painting, collage, or whatever else you like to do.
It might be enough time to make something small from start to finish. Or if you're working on a larger project, it might be enough time to add to that.
You'll be surprised at what you can achieve in 15 minutes. And even if you're working on a large project, it'll soon begin to take shape with an extra 15 minutes work a day.
Either way, it's a good challenge to help you stop overthinking what you're doing and just get straight into using your creative time wisely.
Sign up for my monthly emails of creative tips, tutorials and DIYs and get 31 free creative prompts!
You can unsubscribe at any time
About Stacey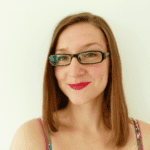 I'm Stacey and I'm a blogger, abstract artist and freelance writer. My aim is to help busy people feel inspired and get more creative with tutorials, hints and tips.
I live in Cardiff with my partner and dog, and in my free time you'll find me hiking, reading, painting or sampling a craft beer or two.