Learn how to paint this abstract autumn tree with acrylic paint. It's both simple and quick to do, with only three steps to follow!
This is a deceptively easy painting when you break it down into stages. And actually, there are only three stages, so it's quick too!
Firstly, you'll paint in the blue background. Then you'll add a trunk and branch. And when all that's dry, you'll add in the leaves.
Even though each leaf is an individual brush stroke, it doesn't take long to get them all on the paper. You don't need to wait for each different layer of leaves to dry, nor do you need to be too particular as to where you place each leaf. Random and abstract is good in this case!
Sign up for my monthly emails of creative tips, tutorials and DIYs and get 31 free creative prompts!
You can unsubscribe at any time
A note on paintbrushes
Using flat brushes will make your life a lot easier when working on this painting project. Depending on where you live, you might have heard them called bright or square brushes.
The squared off end makes it very easy to cover large areas with paint. But you can also add finer details by holding the brush upright or on its side to work with the edge of the brush head.
I used a large flat brush for the background, a medium one for the trunk, and a small one for the leaves. As I mentioned already, each leaf is just one brush stroke, and using a square brush makes this technique super effective.
So let's take a look at the three steps to take to paint your own autumn tree with acrylics.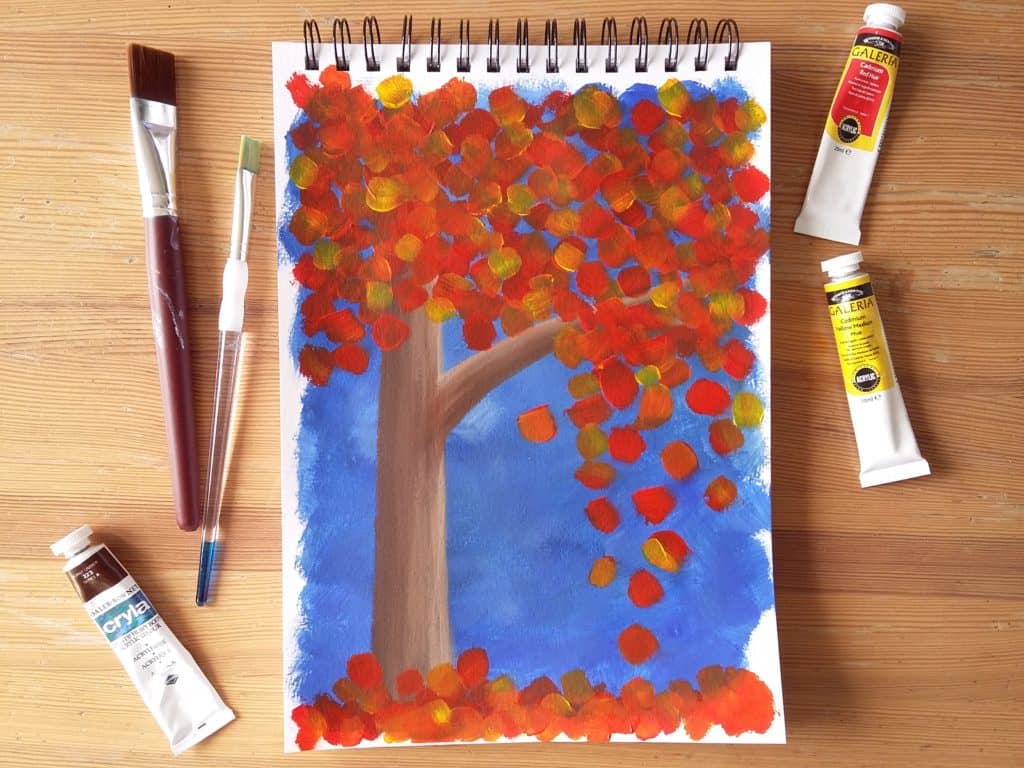 How to paint an autumn tree with acrylics
Supplies needed
Step one
We'll start by painting the background. For this we'll need a large brush and the ultramarine, titanium white and burnt umber paints. The burnt umber will give the blue a little bit of a grey tone.
Dampen your brush, then mix enough white with the ultramarine to get the shade you want. Add a tiny dot of burnt umber.
Paint with random strokes, not worrying about their direction or if the paint is fully mixed. We want to create an indistinct background, nothing perfect. Cover the entire page in this way.
Step two
Now we'll move on to the tree trunk. Dampen the medium brush and mix up a mid shade of brown with burnt umber and some white.
Paint a trunk shape with a branch coming off the side, remembering that the trunk will be wider at the bottom than the top.
Add some streaks with a darker brown to the left of the trunk and a light brown to the right. (On the branch, the darker brown is to the bottom and the lighter brown on top.) This will help to shape the tree and give it some depth.
Step Three
When the trunk is dry, we'll paint some leaves. To do this, we'll use the small brush and just daub the paint around the top and bottom of the tree in varying shades of red, orange and yellow.
Start with the cadmium red and a tiny dash of yellow, and randomly daub the paint onto the page.
Keep going in this way, adding more and more yellow to the mix until you've built up a nice layer of leaves. You could also add a few that are falling to the ground.
And there you have it, you've just painted a simple, autumn tree with acrylic paint!
I hope you enjoyed this tutorial. If there are any other acrylic painting tutorials you'd like to see, please let me know in the comments.
Ready to learn more about acrylic painting? Check out this article: Acrylic Painting Terms: A Glossary For Beginners!
Sign up for my monthly emails of creative tips, tutorials and DIYs and get 31 free creative prompts!
You can unsubscribe at any time
About Stacey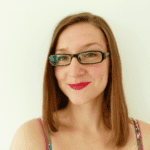 I'm Stacey and I'm a blogger, abstract artist and freelance writer. My aim is to help busy people feel inspired and get more creative with tutorials, hints and tips.
I live in Cardiff with my partner and dog, and in my free time you'll find me hiking, reading, painting or sampling a craft beer or two.
Save
Save