Finding the time and space to be creative can be tricky enough when you're at home, so what do you do when you're travelling or going on holiday? If you thought you'd have to give up your creative time for as long as you're away from home, you're wrong. Read on for some tips to help you stay creative when you're travelling.
If you've been working on building up a creative habit, you'll know the importance of consistency. Like starting any new habit, you need to make sure you do it daily until it becomes second nature and you don't have to remind yourself to do it.
So it's frustrating to have to stop when you're well and truly in your stride, creating daily. And if you're anything like me, you can find it frustrating even if you've been interrupted for a good reason, like to go for a day out, or a weekend away, or a week-long holiday.
(Honestly, I know… And never mind if I was the one that helped plan the weekend away, before forgetting about it and thinking I had some spare time to spend being creative… 😳)
But all is not lost. There are ways of taking your creativity travelling with you so you don't have to break that habit. You just might have to get creative in your planning to be able to make it happen. How meta is that…?!
So let's look at some ways to stay creative when you're travelling.
Sign up for my monthly emails of creative tips, tutorials and DIYs and get 31 free creative prompts!
You can unsubscribe at any time
1. Try something different
With this, I mean try a different art or craft to whatever you currently do that's not particularly portable.
For example, if you're an oil painter, it's going to be tricky to paint while you're travelling or on holiday. It's not the painting itself that will be the problem but rather what to do with the wet paintings for the time they take to dry!
Attempting to transport wet paintings back home or on to your next destination is just going to cause unnecessary stress. In that situation, you may be better off taking a different creative project away with you.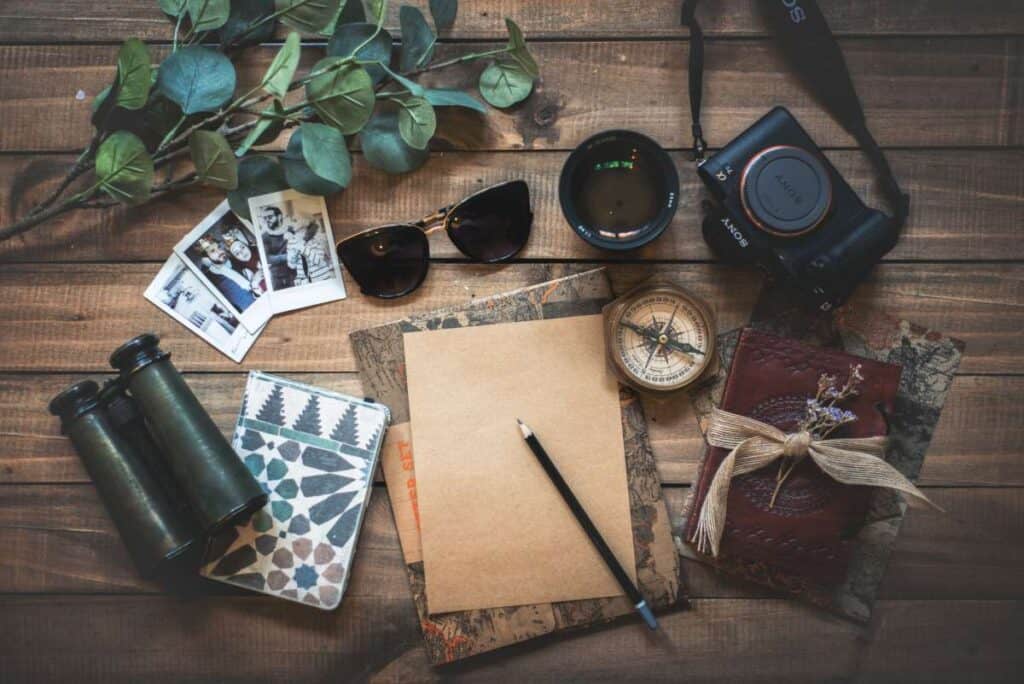 And with that in mind, you might consider my next tip which is to…
2. Go minimal
If you like to be surrounded by supplies when you're doing creative stuff, you might find trying a more minimal approach frustrating… or you may find it refreshing! Either way, the chances are you don't have unlimited space in the car or in your suitcase.
If you can find a smaller version of a craft you normally do or if you can narrow it down so you take fewer supplies, your creative habit can continue without coming at the expense of taking enough underwear with you!
Space-saving creative projects and supplies
Here are some ideas for space-saving creative projects and supplies:
Try photography. You're bound to have some kind of camera with you on your trip. The one on your smartphone is perfect for this, and the chances are it'll always be with you! Don't just take photos of people and landscapes — try capturing tiny, close-up details and interesting textures you see when you're out and about too.
A sketchbook and pencil. Take a pocket size sketchbook and try your hand at small sketches — a hand holding an ice cream cone, a single flower, your coffee cup, a closed door… The possibilities are endless. What's right in front of you?
If you're a watercolour painter, or want to give it a go, this Winsor & Newton Cotman Watercolour Sketch Pocket Box is great, as are these Pentel Aquash water brush pens. I own them both and use the brush pens all the time (even at home) as they're so handy.
Watercolour postcards are perfect for making your own postcards to send back home to friends and family!
If your art journal isn't too big, consider taking it to create some holiday spreads. Take a glue stick or some tape for your holiday memorabilia, and coloured pencils or markers to complete the rest of the page. (Just make sure you've pre-prepared some backgrounds to make it easier! Try this article for inspiration: 8 Ways To Make Art Journal Page Backgrounds In 5 Minutes)
3. Soak up your surroundings
Find inspiration in the place you're visiting and the things going on around you. By that, I mean:
Take photos
Sketch your surroundings
Write about your surroundings, or the things you've been doing and experiencing
Look at the colours around you
Collect items you can use in a future project (legally, of course!)
Map out some art journal or scrapbook pages
Be mindful and look for creative opportunities in every experience you have when you're travelling. You're sure to come home brimming with inspiration for future creative projects.
Do you have any other tips for how to stay creative when you're travelling? Please share them in the comments!
Sign up for my monthly emails of creative tips, tutorials and DIYs and get 31 free creative prompts!
You can unsubscribe at any time
About Stacey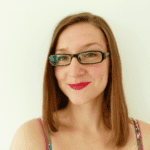 I'm Stacey and I'm a blogger, abstract artist and freelance writer. My aim is to help busy people feel inspired and get more creative with tutorials, hints and tips.
I live in Cardiff with my partner and dog, and in my free time you'll find me hiking, reading, painting or sampling a craft beer or two.