If you're looking for a little inspiration for your summertime creativity, look no further. Check out these 15 summer art journal prompts and get creating!
Better weather and lighter days often mean we spend more time outside during the summer. I embrace this as much as the next person, but I still like to spend time creating too.
So a lovely thing to do at this time of year is to make art journal spreads dedicated to the season.
You can use your favourite memories and photographs to make some lovely pages in your art journal that you can come back to in the cold, dreary days of winter.
If you want something to do on a rainy summer day or you just need to spend some time indoors out of the sun after a lot of hot days, take a look at the following summer art journal prompts.
Sign up for my monthly emails of creative tips, tutorials and DIYs and get 31 free creative prompts!
You can unsubscribe at any time
15 Summer Art Journal Prompts
Prompt one
Experiment with a summery palette in your projects, including yellows, oranges, greens and other bright colours.
Prompt two
Create a beach scene and give it some texture by mixing sand with PVA glue and painting it on.
Prompt three
Include part or all of a photo you've taken of something that happened during summer.
Prompt four
Incorporate some words or phrases like summer, sun, beach, fun, ice cream, pool, etc.
Prompt five
Make a spread dedicated to one of your favourite ever summer memories.
Prompt six
Try and encapsulate your most recent/favourite summer holiday in one spread.
Prompt seven
Use a sponge with some paint to create interest and texture, like gentle fluffy clouds, sea foam, dandelion clocks, and tree tops.
Prompt eight
Create a field of wildflowers by loading up a paintbrush with some slightly diluted brightly coloured paint and flicking it at a simple green background. Repeat with a couple of other bright colours.
Be sure to cover your surfaces first as the paint will definitely go further than you expect!
Prompt nine
Use a pen with a fine tip to draw the outlines of lots of different shapes of flowers. (Or, you could finger paint the flowers like in the image below!)
Prompt ten
Create your favourite ice cream or ice lolly from your childhood (or now!).
Prompt eleven
Use torn paper to make the sun and long strips of paper for its rays. Write something you love about summer along each ray.
Prompt twelve
Create an abstract sunflower from blobs of paint or pieces of torn paper.
Prompt thirteen
Create a spread using summer flowers that you've picked and dried.
Prompt fourteen
Draw a glass of lemonade with a straw and lemon slices and write some of the things you've done this summer in the drawing.
Prompt fifteen
Create a summer bucket (and spade) list, writing down the things you want to do, achieve and experience this summer.
You get bonus points if you draw the kind of bucket and spade a child would use to make a sandcastle…
I hope you find something in this list of summer art journal prompts to help inspire a bit of creativity — even when the weather is good outside.
If you have any more ideas for summer art journal prompts, share them with everyone in the comments below.
Sign up for my monthly emails of creative tips, tutorials and DIYs and get 31 free creative prompts!
You can unsubscribe at any time
About Stacey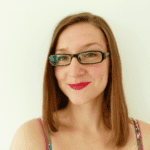 I'm Stacey and I'm a blogger, abstract artist and freelance writer. My aim is to help busy people feel inspired and get more creative with tutorials, hints and tips.
I live in Cardiff with my partner and dog, and in my free time you'll find me hiking, reading, painting or sampling a craft beer or two.