So in my last post, I showed you how to paint watercolour ice cream cones and I also said that things were going to get pretty summery around here. And this tutorial for a quick and deceptively simple beach scene painting is right on theme!
If you're looking at this project and thinking "Deceptively simple? There's NO way I'm going to be able to do that!" let me tell you to have a little more faith! I have a few hints to help make this painting as straightforward as possible.
First things first: my biggest tip. This is to use one shade of blue acrylic paint for the sky and another for the sea. I'm using ultramarine for the sky and phthalo blue for the sea because standard phthalo blue has a more greeny tone that suits the sea best.
But you also know that I always tell you to use what you have. So if you just have "blue" acrylic or craft paint, add a little green or an even tinier smidge of yellow to give the sea a very subtle green tinge.
There's also a workaround if you don't have yellow ochre. For this, you can mix a tiny bit of purple (or a dot of red and a dot of blue) into some yellow to get a similar effect. The main thing is that we don't want the sand to be bright yellow.
And here are two more super quick tips before we get into the tutorial:
Make sure the horizon is straight and parallel to the edge of the page. A wonky horizon line will make your painting look a little odd!
Keep your brushstrokes horizontal as far as possible.

How To Paint A Simple Beach Scene With Acrylics
Supplies needed
Watercolour/acrylic paper (if you don't have this, thick paper or thin card will do. If it buckles, flatten the painting under a stack of books when it's dry.)
A medium-sized flat paint brush
Acrylic paints in ultramarine blue, phthalo blue, yellow ochre, and titanium white (see above for workarounds)
Painter's tape (masking tape will do in a pinch but it may take the surface off your painting if you're not very careful)
Step One
We're going to start with the sky, so stick a strip of tape across your page about a third of the way down. This will be the horizon line, so try to make sure it's parallel to the top of the page, otherwise you'll have a wonky horizon!
Step Two
Dampen your brush and then mix some ultramarine blue with a little white. Start at the top of the page and paint long strokes across the page. As you work down towards the tape, add more and more white into the mix until the blue at the horizon is fairly pale. You should end up with a nice graduated sky, but don't worry if it's a little streaky as the streaks will just look like clouds.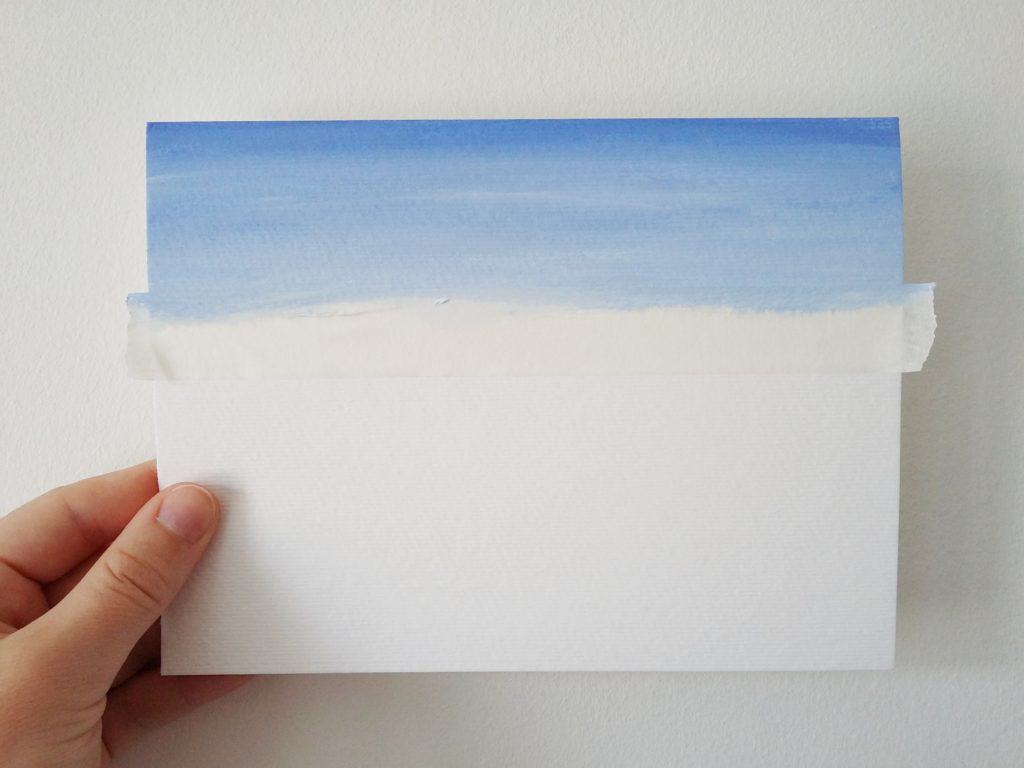 Step Three
We're now going to start on the sand. Wash your brush really well or grab a clean one, then pick up a little yellow ochre and mix it with some white to make a pale yellow ochre. Start from the bottom of the page and work up to cover at least the bottom third. We'll bring the sea down over it, so don't worry about making a neat edge, and also don't worry if the colour isn't even and uniform the whole way across — it looks more lifelike that way.
Step Four
Now we'll move onto the sea. Remove the tape from the horizon, and as long as the sky is dry, stick another piece down the other side of the horizon to keep the sharp edge. Pick up some phthalo blue on a clean brush, mix in a tiny bit of white, and start painting horizontal strokes along the horizon line. As you work down the page, add more and more white until you have a very pale blue where the waves wash up on the shore. Paint an uneven edge along the shore.
Step Five
Mix a tiny bit of blue and a little yellow ochre to make a kind of brown, and use the tip of the brush to paint a rough line along the edge of the water. This will be a shadow, and although I know it doesn't look like it at this stage it will make all the difference in the end! Let the painting dry.
Step Six
Remove the tape. We're now going to add some white details. Dab some white paint onto the sea where it meets the shore to make some foam, trying not to make it too uniform as you do. Don't worry if a bit of white goes over the shadow you painted. Make a few horizontal marks in the sea further back, for a little distant foam. The further back you go, the smaller the marks should be.
And there you have it — you've just painted a simple beach scene!