If you've been experiencing a bit of creative block recently, don't panic! It could be that all you need are some creative prompts. And that's exactly what I want to talk about today.
[TL;DR: sign up for my fortnightly emails and get 31 free creative prompts to keep you busy 🖌️🎨✏️]
I've been thinking about creativity a lot just recently, and more importantly what you do when you just aren't feeling the creative spark. I recently wrote a post called 14 Ways To Find Creative Inspiration which really got me thinking about other ways I can help people get a bit more creative.
Getting more creative can be as simple as sitting down with a pencil and a piece of paper and doodling something. But for someone who hasn't done much drawing and doesn't feel confident in their ability, this can be a terrifying prospect.
Sometimes the bright whiteness of the paper is daunting. Wherever you decide to make the first mark doesn't seem right. The fact that you have an eraser next to you, and the world won't end if you don't get that first line spot on, doesn't seem to occur.
Does this feel as familiar to you as it does to me?
Sign up for my monthly emails of creative tips, tutorials and DIYs and get 31 free creative prompts!
You can unsubscribe at any time
Banishing creative procrastination
Even if you are confident in your drawing ability, sometimes it just seems impossible to get started. Procrastination kicks in. Even if you have a sketchbook and pencil in front of you, it seems almost impossible to pick it up and begin.
One thing that makes it easier to just sit down and DO something creative is to have the decision-making part taken away from you.
And by that, I don't mean forcing someone to sit you at the table and put a pencil and paper in front of you. (Although I guess that could be another option…)
Ask for help
No, what I actually mean is it's much easier to sit down and get started if someone tells you WHAT to draw or create.
I know this because it happened to me recently when I took a hand-lettering course. Now I've finished, I want to keep up a regular practice. But how does that happen without the regular prompts?
But if I'm struggling one day, I'll ask my partner for a word. He tells me the first word he thinks of and I start lettering. Often, you just need that little spark of inspiration, and it'll flare up into lots of new ideas.
It doesn't even have to be anything fancy. Very often, my boyfriend literally says the thing that's in front of him. Sometimes it's whatever he happens to be looking at. Yes, I've practised hand-lettering the word 'sky'…
What the prompt is doesn't matter. All that matters is that you can turn it into some kind of creative activity.
We need some creative prompts…
So I guess what we need is a creative prompt, right? And something that we can use without hassling the nearest person for ideas…
Well, with that in mind, I've got a little something for you – or actually, 31 little somethings. I've put together a whole month's worth of creative prompts for you to work through, using one a day. All you need to do is pick one at random and get to work.
Let me know what you create using the hashtag #31CreativePrompts. I'm on both Instagram and Twitter, and I'd love to see what you come up with!
Sign up for my monthly emails of creative tips, tutorials and DIYs and get 31 free creative prompts!
You can unsubscribe at any time
About Stacey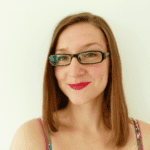 I'm Stacey and I'm a blogger, abstract artist and freelance writer. My aim is to help busy people feel inspired and get more creative with tutorials, hints and tips.
I live in Cardiff with my partner and dog, and in my free time you'll find me hiking, reading, painting or sampling a craft beer or two.