If you have a space on a wall that needs filling, why not have a go at making your own abstract painted canvas?
Even if the idea of painting makes you nervous, the good news is that no mistake is unfixable when you're working with acrylic paints.
My boyfriend and I had been talking about putting something on the wall above the sofa in our living room.
We have an idea of the kind of thing we want (something beachy, maybe the sea, painted rather than a photo) but as yet we haven't found the perfect one.
And in the meantime, we still have that bare wall. That's where this abstract canvas comes in
Even if you don't believe that you're much of a painter, you'll still be able to make your own abstract painted canvas.
All you really need to be able to do is apply paint to a brush, and then use that brush to apply the paint to the canvas.
And I'm not trying to be flippant here – that really is all it takes.
That's the beauty of making an abstract. It doesn't need to look like anything in particular, so long as you're happy with the end result.
The only thing you may struggle with is settling on the exact colours you want to use.
And on that note…
Sign up for my monthly emails of creative tips, tutorials and DIYs and get 31 free creative prompts!
You can unsubscribe at any time
How to choose your colours
If you know where you want to put a canvas in your home, the chances are you already know what colour(s) you want to use.
But if you have no idea at all, or you have an idea for one colour but don't know if another colour would look good with it, take a look at this article.
I recommend that you pick at least one contrasting colour to break up the canvas a little. Because our living room has a lot of blue accents, it made sense to me that the canvas would mainly be made up of shades of blue.
But our sofa is brown, so I thought it would be good to add a couple of shades of brown. And as the living room isn't a very bright room, I wanted to add some white to help lighten it up a little.
The supplies I used
The canvas I used was a pretty large one, 30 inches x 20 inches. We intend to hang this canvas above the sofa so it made sense to use a nice big one.
There was a half-price sale on the art supplies in Hobbycraft when I bought it, so it was only £5.50.
I used acrylic paints from a variety of brands: Winsor & Newton, Reeves, and Daler Rowney.
I really like the coverage of the Winsor & Newton Galeria range, and they're not too expensive, either. (Although I already had them in my art supplies, so I didn't actually need to buy any new paint.)
Why use acrylics?
While I'm on the subject of the paint I used, I want to talk about why I chose acrylics.
I love acrylic paints anyway, and if you want a bold and bright finish, they're great!
They're also quick drying, so you won't need to leave it for days before painting the next colour.
The great thing about acrylic paint is that it can be painted over without any bother, so there's no such thing as a mistake that can't be fixed.
If making a mistake was something you were worried about, I hope this puts your mind at rest!
How brush shape affects the painting
I need to confess at this point that prior to starting this project, I didn't consider the shape of the brush I was using, and how it might affect the way the painting turned out.
I used two different brushes for this project: flat (which has a straight, squared-off tip) and filbert (which is also flat but has a rounded tip).
If you want to make really squared-off blocks of colour, use a flat brush. A filbert-style brush will make more rounded or oval splodges of colour. It's down to preference, and I actually decided to use both on my canvas.
You might also want to think about the size of the splodges relative to the canvas.
On reflection I would have made my first blocks of colour a little larger than I actually did, as my original aim was to have fewer blocks of colour on the canvas.
Having said that, I'm actually really happy with how it turned out, even though it wasn't quite how I originally intended it!
How to make an abstract painted canvas
Supplies needed
Step one
Start by mixing up a colour to paint the edges and sides of your canvas. I chose a pale, sky blue colour since the main colour I was planning to use was blue.
You could paint the whole of your canvas this base colour if you like, but since I had such a large canvas, I felt it would be a waste of time and paint.
Leave the canvas to dry.
Step two
Mix up another shade of your main colour. It doesn't need to be perfect! I started with a darker blue as I wasn't sure how much dark blue I wanted visible in the end, and the first few colours are at least partially covered by later layers.
Start to add splodges of the colour onto the canvas, leaving plenty of space between each one. Place them randomly, without thinking too much about it. Don't worry about how neat and tidy they are either.
When you're happy that you've got enough of this first colour on the canvas, leave it to dry.
Step three
Now it's time to add splodges of another colour. Keep repeating step two until the canvas is covered – mixing up a colour, adding splodges of it to the canvas, then leaving it to dry. Overlap the colours as you go (this is why it's so important that you let each colour dry) to add to the abstract effect.
Leave it to dry one last time and your abstract painted canvas is ready to go up on the wall!
NOTE: If you're worried about knowing when to stop, my recommendation is to just paint until the canvas is covered. Don't keep touching it up, or layering more paint on top. You can always add more later, but you can't take it away (although as I've already mentioned, you can paint over it!)
Sign up for my monthly emails of creative tips, tutorials and DIYs and get 31 free creative prompts!
You can unsubscribe at any time
About Stacey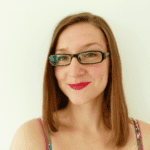 I'm Stacey and I'm a blogger, abstract artist and freelance writer. My aim is to help busy people feel inspired and get more creative with tutorials, hints and tips.
I live in Cardiff with my partner and dog, and in my free time you'll find me hiking, reading, painting or sampling a craft beer or two.