This easy abstract acrylic painting is as simple as squeezing blobs of paint onto the paper or canvas and then blending them together.
This method of creating an abstract painting is really freeing since it's a little unpredictable. That also means it's a great way for anyone who is a perfectionist or control freak (that's me, by the way, although I'm getting better) to learn to let go a little!
Each painting you complete using this technique will vary depending on:
Where you squeeze the paint onto the page
How much paint you use
What direction you take the brush strokes
How much you blend the paint colours
Can you see how there's an infinite number of possibilities?
How much you choose to blend the paint will also play a big part in how your painting turns out.
Use long, straight brush strokes with light pressure and you'll end up with something like the pink and purple painting
Hold the brush so it's at right angles to the page and just the tips of the bristles are in contact and use circular, dabbing motions to make a painting similar to the red and yellow one. (This technique isn't great for your paintbrushes, though, so don't do this with fancy or expensive brushes! Keep it for cheap, old ones…)
And if your brush strokes are short and change direction a lot, and you don't blend the colours too much, you'll create a painting like my blue and purple one
Play around with it and try different techniques until you hit on something you really love.
Sign up for my monthly emails of creative tips, tutorials and DIYs and get 31 free creative prompts!
You can unsubscribe at any time
Choosing your colours
It's also best to think carefully about the colours you choose for your painting. For my first attempt, I grabbed a few colours and just thought I'd see what happened.
The picture below shows what happened… 😬
While I quite like the brush strokes and how carefree the painting turned out, the colours turned out pretty muddy where the green, red and yellow mixed together.
I really didn't think that one through properly, as I know red and green don't mix to create a pretty colour!
Also, I think I chose one colour too many, choosing red, green, yellow and white. For best results, three colours would be plenty (unless you're painting on a very large canvas).
So now you've read my best tips (including what not to do…!) let's get onto the ridiculously easy step-by-step tutorial!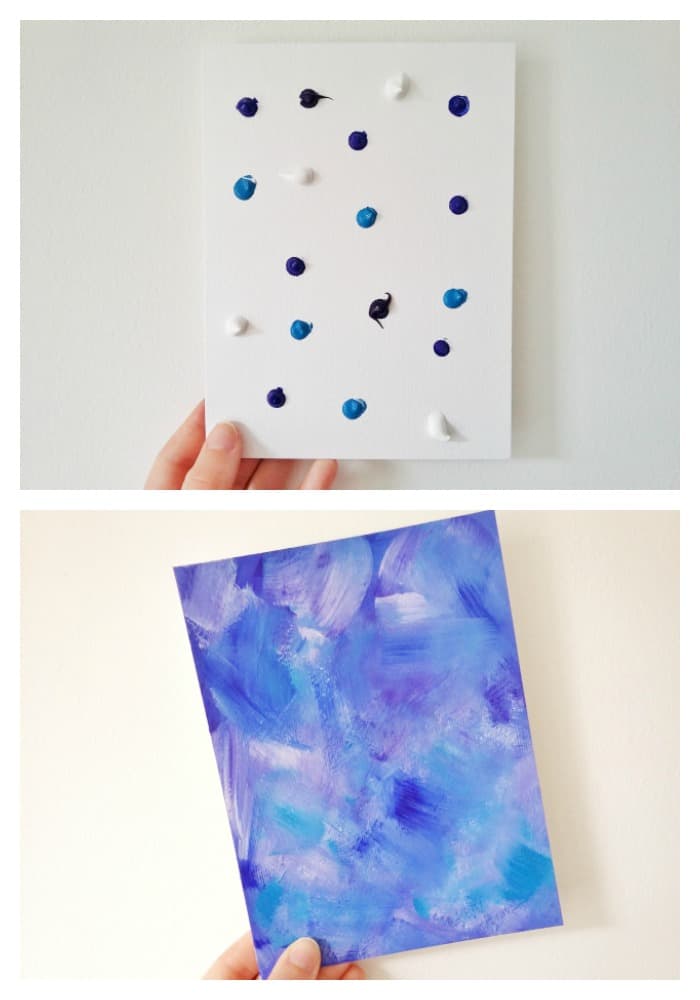 Easy Abstract Acrylic Painting DIY Step-By-Step
Supplies needed
Step zero (Optional, and only necessary if you're painting on a canvas)
Take one of the colours that you'll be using for your abstract painting and use it to paint the sides of your canvas. This means you'll be able to hang it without needing a frame.
Step one
Squeeze a few blobs of paint onto the paper or canvas. Don't make them too big — pea-size is perfect — and leave an inch or two of space between them.
Put fewer blobs of the darker colour and more of the lighter colour(s).
Step two
Take the paintbrush and start to blend out the colours. It's entirely up to you how much you blend the paint. You could keep it quite rough and expressive like my blue and purple painting or more blended out like the other two. (See above for the exact blending techniques I used.)
Step three
Take a look at your painting to see that you have enough of each colour showing. If not, squeeze a tiny bit more of the paint onto the paper and blend it in.
Once you're happy with all the colours, leave your painting to dry.
Ready for something else? For an easy, abstract watercolour painting, try this tutorial: How To Paint Abstract Watercolour Circles!
And if you want to learn more about acrylic painting, check out this article: Acrylic Painting Terms: A Glossary For Beginners!
Sign up for my monthly emails of creative tips, tutorials and DIYs and get 31 free creative prompts!
You can unsubscribe at any time
About Stacey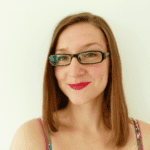 I'm Stacey and I'm a blogger, abstract artist and freelance writer. My aim is to help busy people feel inspired and get more creative with tutorials, hints and tips.
I live in Cardiff with my partner and dog, and in my free time you'll find me hiking, reading, painting or sampling a craft beer or two.