Why should kids have all the fun? If there's one thing I know it's that sometimes, a bit of easy breezy playtime with paint is just the thing I need. So here's how to make your own fold and squish abstract art to use in collages or your art journal.
You might wonder if there's actually much to say in a tutorial on this topic, especially as it's a simple but fairly random technique… Well, it's actually possible to achieve some very different effects so I've demonstrated three approaches you can use to try this out.
It's also pretty addictive as it's fun to see what you can create with so little time and effort!
This is also the first post where I've included a demonstration video as well as the step-by-step instructions. A number of the people who filled out my email survey a couple of weeks back requested this, so let me know what you think about it.
Sign up for my monthly emails of creative tips, tutorials and DIYs and get 31 free creative prompts!
You can unsubscribe at any time
A note on paper
You're going to need pretty thick paper for this as regular printer paper will buckle. If you don't have paper that's suitable for acrylic paint, you could use thin card. Watercolour paper also works well, if you happen to have that. Most importantly, and as I always say, just use what you have!
I used three of my sketchbooks to record the video as I wanted to do it all in one go without waiting for thick paint to dry. In case you're interested, they are:
Viviva Colors Inktober 2020 sketchbook (7.5 in square). Not sure what the paper's weight is, but it's thick and stands up well to a lot of paint! The surface is quite textured, which isn't for everyone, but I really like it.
The Handbook Journal Co (200gsm/90lbs, 8.25 in square). This is one of my favourite sketchbooks.
Fabriano Venezia Book (200gsm/90lbs, 9 in x 12 in). The paper in this sketchbook doesn't feel quite as thick as the Handbook Journal Co sketchbook even though they're the same weight, but it's still lovely.
While I used sketchbooks to create this effect, you could use loose sheets of paper too. Either fold the paper in half or put the paint on one sheet and stack another on top.
It's a lovely effect to use as a background in an art journal, so you could either do this straight into the pages of your journal or use a separate piece of paper and stick it in afterwards (similar to this tutorial on making a collage from an abstract painting).
A note on paint
You'll see in the video that I demonstrate this technique using heavy body paint and acrylic ink. They give very different effects:
Heavy body paint = distinct, bright blocks of opaque colour and fantastic texture
Acrylic ink = softer colours that blend together and sit flat on the page
You can use whatever paint you happen to have. Craft paint will work fine for this, and sometimes cheaper paint actually produces more interesting effects with this kind of random technique.
Watercolour paint would also work, but bear in mind it'll create a much softer effect than the acrylic ink. It's also not permanent when it's dry like acrylic ink is, so if you want to go back over it with any other wet media, you'll reactivate it and possibly spoil the effect.
You definitely don't need to use the specific colours I used, but if you're interested they are:
I used the paint straight out of the tube/bottle, but for a bit more control you could apply using a palette knife or brush. You could also add a little water to your heavy body paint to make it go further.
How to make fold and squish abstract art
This is definitely a technique to experiment with as the options and possible results are endless!
Supplies needed
A selection of paint colours
Some thick paper or thin card
A palette knife or paintbrush in case you want to move the paint around
Some paper towels (in case you're a messy painter like I am 😅)
Step one
Apply the paint to one half of the page or sketchbook spread.
In the first demo I painted in a circular design, leaving the centre of the page blank. In the second one I painted stripes on the page, while the third technique used more random strokes.
Step two
Fold the page over or close the book. Apply some pressure to smooth and spread the paint.
Step three
Carefully open the page or sketchbook and leave to dry.
When it's dry, you can go back over the top with more paint or a collage, or cut the page up to use in another collage.
Making fold and squish abstract art is definitely fun and well worth a try, so let me know how you get on in the comments!
Sign up for my monthly emails of creative tips, tutorials and DIYs and get 31 free creative prompts!
You can unsubscribe at any time
About Stacey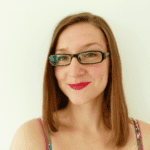 I'm Stacey and I'm a blogger, abstract artist and freelance writer. My aim is to help busy people feel inspired and get more creative with tutorials, hints and tips.
I live in Cardiff with my partner and dog, and in my free time you'll find me hiking, reading, painting or sampling a craft beer or two.