Make a unique piece of art for your wall or a background for a page in your art journal by making a collage out of a quick and messy abstract painting. Read on for the steps to make your own abstract painting collage!
So, let's start with a confession: I came across a version of this project when I was browsing my Pinterest feed and it was designed for toddlers. To be fair, I didn't realise that at the time.
I was reading through the blog post that went with the project, thinking how fun it sounded, when I got to the bit about how it was a great way to get very young kids playing with paint.
Anyway, I decided that there's no reason why kids should have all the fun, so that's why I've created this particular project for you today!
This collage is great framed as a piece of wall art for yourself or as a gift, and it also makes for an interesting page in your art journal (which is what I did).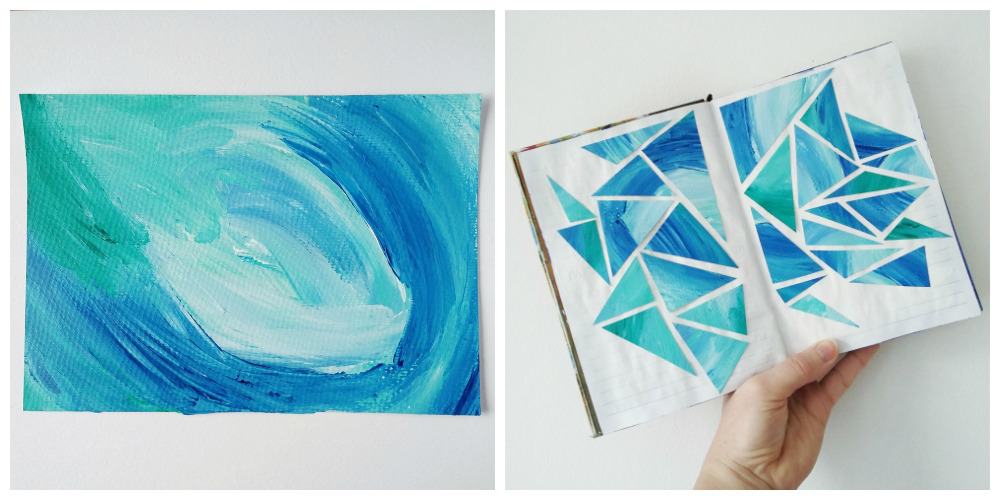 On the left is the initial painting I made, and on the right is the finished collage in my art journal!
Making your abstract painting
The initial painting can be done in two ways – by finger painting or by using a paintbrush.
I went for the finger painting option because I love finger painting and think it's a great technique to use in your artwork, but I know it doesn't appeal to everyone.
If you decide to finger paint, I'd recommend you either use gloves or paints designed specifically for this purpose.
How to make an abstract painting collage
Supplies needed:
Different colours of paint (I used acrylics)
Paintbrush (optional)
Gloves if finger painting
Thick paper to paint on
Scissors
Craft glue
Your art journal, or another sheet of paper to mount the collage
A frame if you're making wall art
Step one
Make a messy, abstract painting. Either use your fingers or a paintbrush and swipe the colours across the page, letting them blend a little here and there but not worrying too much about the end result. Leave this to dry.
Step two
Cut the dry painting into shapes. Triangles are a great option as they're easy and quick to cut out, but it's entirely up to you what shapes you do. Try to make sure the shapes aren't all uniform in shape and size.
Step three
Rearrange your painted shapes on another sheet of paper, or in your art journal. I chose to leave a small gap around each piece and kept the shape of the collage pretty abstract.
When you're happy with the way they go together, glue them in place and leave until the glue is dry.
Step four
If you're making your piece into wall art, now is the time to frame it. Otherwise, if it's in your art journal, you may want to add a layer of Mod Podge or PVA glue (I think that's Elmer's glue in the US but I'm not 100% sure) with a few drops of water added, just to make sure the corners all stay stuck in place.
Then you're all done!
I really hope you enjoy this fun and messy exercise to make an abstract painting collage. Different mediums and surfaces will give different effects, so get stuck in and see what you can create!
Sign up for my fortnightly emails of creative tips, tutorials and DIYs and get 31 free creative prompts!
You can unsubscribe at any time
About Stacey
I'm Stacey and I help busy people feel inspired and get more creative with tutorials, hints and tips.