This post is a follow-up to one of the most popular posts on the blog, Getting Started With Blending Watercolour Pencils. It seems like there's a lot of interest in drawing and painting with watercolour pencils, so I thought it was time I revisited it.
This time, we're looking at what happens when you work with wet paper rather than applying the pencil to dry paper and then brushing water over it. Once again, I'm using my set of Reeves watercolour pencils for this.
Sign up for my monthly emails of creative tips, tutorials and DIYs and get 31 free creative prompts!
You can unsubscribe at any time
What's the best way to dampen the paper?
Firstly, when I say wet paper, I guess I really mean damp paper. I took a wet brush and brushed it over the paper to dampen it down. There was no water sitting on the page when I drew on it with the pencils (although I actually did test what happens when you draw on really wet paper, so read on to find out more).
To get a nice even coverage with the water, I used a Pentel Aquash brush pen. These brush pens are really handy for painting on the go. Since you fill the pen with water, you don't need to carry a jar of water with you!
I also love to use it when I'm at home, since the pen releases a really steady, even amount of water. You can squeeze it gently to get it to release more, but the act of brushing it on the paper is generally enough. This is ideal when you want to dampen the page without ending up with it soaking wet.
What happens if the paper is very wet?
If you don't have a brush pen, you can just use a regular paintbrush. Just be sure to wipe the water off on the side of the jar so it's not totally dripping when you apply the brush to the page. If the paper is very wet when you draw with the pencil, you'll find it harder to control how much colour transfers to the page. It also seems to turn out pretty patchy, as you can see in the picture below.
What happened when the watercolour pencils were used with the wet paper?
Here are my results from using watercolour pencils on wet paper:
As you can see, I did each effect twice – once on wet paper (the left column) and once on dry paper (the right column) to compare the differences.
From top to bottom, I drew:
thick lines
an area of coverage with light pressure
an area of coverage with heavy pressure
some detailed patterns
blended colours
As you can see, the main difference is how much more intense the colour is on the wet paper. That happens even with very little pressure. Actually, I think it would be pretty difficult to achieve the very pale colour that's on the dry paper. I applied hardly any pressure at all, and you can see how dark the colour came out on the wet paper.
I was curious to see if there would be any spreading or bleeding on the wet paper so I decided to draw a small pattern. There was no bleed at all, so I think that using watercolour pencils on wet paper would be a great way to create an intricate pattern in artwork.
Using watercolour pencils for hand lettering
I discovered that damp paper provides a really, really good surface for hand lettering. The watercolour pencil travels really smoothly over the paper and releases intense colour.
If you want to try brush lettering, or would like a watercolour effect in your hand lettering, using watercolour pencils might be a good place to start. It's much easier to hold a pencil. Even though I know you can use brush pens (and as I said above, I have the Pentel Aquash ones) I find it much easier to control a pencil tip rather than a brush. And since I'm a pretty inexperienced letterer, this is especially true! I feel that practising my lettering this way will help a lot. I can eventually build up to using brush pens.
It's worth noting that you might find it easier to wet the page as you go along. I found that in my practice runs, I wasn't lettering quickly enough and the paper was drying before I wrote the whole word. In the end, I just wet enough of the page to do one letter at a time. This worked much better. But this obviously depends on how quickly you can hand letter!
So in conclusion…
Just to summarise, here are the things I learnt from using watercolour pencils on damp paper.
Wet paper:
retains less of the pencil texture
makes it much easier to get a more intense colour
requires a lot less pressure for an intense colour than if you were using watercolour pencils on dry paper
is great for hand lettering with watercolour pencils
I hope this helps you decide best how to use your supplies for future art projects.
Sign up for my monthly emails of creative tips, tutorials and DIYs and get 31 free creative prompts!
You can unsubscribe at any time
About Stacey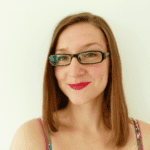 I'm Stacey and I'm a blogger, abstract artist and freelance writer. My aim is to help busy people feel inspired and get more creative with tutorials, hints and tips.
I live in Cardiff with my partner and dog, and in my free time you'll find me hiking, reading, painting or sampling a craft beer or two.