If you've ever wondered how to start an art journal, this is the blog post for you. Learn more about what art journaling is, why you should do it and how to get started on your own art journal with the supplies you have at home.
First things first – and let me be clear on this… You absolutely don't need to be an artist to keep an art journal. You don't even need to feel like a particularly creative person. If you can make marks with a pen, pencil or paintbrush, you can keep an art journal.
You'll also notice that many of the questions below don't have a definitive answer. This is because art journaling is such a personal thing. People do it in many different ways and for many different reasons. I've given you some of the basics, but you really need to give it a go to discover what it means to you.
We'll get to the kinds of supplies you might need later, but there's one thing I want to mention now. Depending on how picky you are, you might find it easier to make your own journal than search for ages for the perfect one to buy.
Personally speaking, I have very specific requirements as to the kind of binding and the thickness of paper, etc, so I really like to make my own journals.
Now let's get into what art journaling is, and how you can start an art journal today. Read the article through in order, or use the list of contents to jump to the section you want to read first:
Sign up for my monthly emails of creative tips, tutorials and DIYs and get 31 free creative prompts!
You can unsubscribe at any time
What is an art journal?
I'm going right back to basics with this blog post, so it seemed appropriate to start off by answering the question: what is an art journal?
Personally, I think that if you asked a few different people this question, they'd all say slightly different things.
In its simplest terms, an art journal is a kind of expressive visual journal or diary that focuses more on colour and shape.
It's not like writing a traditional diary or journal entry, where you might describe events or situations in detail. (Although saying that, words and quotes can feature heavily in art journal spreads.) An art journal captures a feeling or mood at a given moment.
It's a great way of getting feelings and thoughts out of your head and onto a page without necessarily having to write anything (unless you want to).
If you were to work on your art journal every day, you'll be able to look back at a later date and get a sense of how you were feeling or what might have been going on in your life at the time you created the various pages.
What does an art journal include?
I'm afraid I'm going to give you another vague answer here, but that's because there is no definitive right answer. Your art journal can include whatever you want it to include:
Images (whether that's drawings, paintings, photos, printouts you've stuck in…)
Quotes
Longer form writing
Patterns (maybe hand drawn, printed or from patterned paper)
It really depends on your personality and likes and dislikes. Some people want to write long passages in their art journal, while others couldn't think of anything they'd rather do less.
Maybe you want to include all the colours of the rainbow, reflecting a bright and colourful character. Perhaps you're more minimalist, and would rather stick to a small colour palette.
You need to do what feels good to you. And if that means using a truckload of glittery, iridescent supplies, go for it.
Why start art journaling?
This is one of those questions that has several answers, and not all of the answers may be applicable to you.
There are so many reasons to start an art journal, including:
To keep a daily visual diary
As a way to relax and unwind at the end of the day
To practise and develop your artistic skills
To experiment with another creative skill
Just because you want to try art journaling!
All of these are perfectly valid reasons.
In short, if you want to keep an art journal, for any reason whatsoever, you should do it.
That's it, pure and simple!
How often should I add to my art journal?
This is completely up to you. Daily is good, if that suits you. But that doesn't mean you have to complete a whole spread in a day.
You could just spend a few minutes a day working on your art journal, or you could devote an entire hour or more to it. It has to fit in with your life and current obligations.
You could complete a page over a week – on Monday you do the background, on Tuesday you might add a hand lettered quote, on Wednesday you could add some embellishments, on Thursday you might add some doodles…
(Side note: that's not to say every page has to have all those elements. You may start by creating a really expressive background, and then come back to it the next day and decide you like it just as it is, which is absolutely fine!)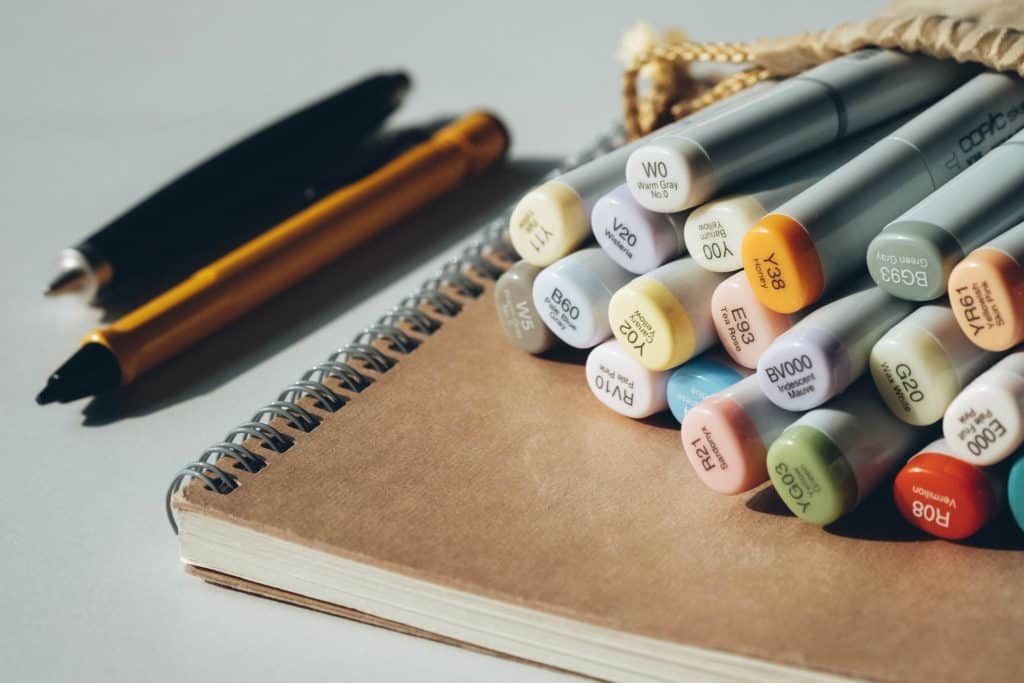 What supplies do you need to start an art journal?
If you've been reading the blog for a while, you'll know I'm a big fan of the "use what you have" school of arts, crafts and creativity.
So it should come as no surprise whatsoever when I tell you there's nothing specific you need to start art journaling. If you have paper, and you have something to write or colour on it with, you're good to go.
If you want to be more specific, there are a number of supplies that can be helpful when you're art journaling. I've included some below, but you can really use anything you like. The important thing is that you feel comfortable with what you're using and able to get creative!
A sketchbook or art journal
A sketchbook or art journal with nice thick paper that can take paint or markers without the colour showing through is ideal. A regular notebook can also work nicely too.
You could even use a ring binder and fill it with loose sheets of paper. This is a great option if you think you'll be likely to add lots of embellishments.
The more stuff you stick on the pages, the chunkier your journal will become, so that's something else to bear in mind when you're making your choice. Opting for a wirebound journal also allows some extra space for your journal to get a bit thicker.
(Completely unrelated point but am I the only one now thinking of Moto Moto's song from Madagascar 2…?)
Anyway! Better still, you could make your own journal. Try this upcycled art journal or this mini book made from scrap card!
Paint
This isn't a necessity, but many people use paint in their journals, even if just to add colour to the background. Then at the opposite end of the scale you'll find people creating full paintings in their art journals.
Acrylic and watercolour both work in different ways for art journaling, but any craft paint will do. You could even borrow your kids' paints if that's all you have in the house.
If you're unsure if you'll enjoy using paint in your art journal, I'd definitely recommend just starting with what you have. Then you can see how you feel when you've been using it for a little while.
Things to make marks with
The possibilities here are endless, as there are so many things you can use.
These might include:
Your favourite pen to write with
A regular pencil
Markers
Coloured pencils
Watercolour pencils (I really like my Reeves set)
Acrylic paint pens
Again, if all you have in the house is some crayons that belong to your kids (wax resist, anyone?), or highlighters you use for work documents, just go with it!
Sometimes limiting the amount of supplies you're working with can help the creativity flow. It also helps prevent the paralysis that comes with having to decide what to use next.
Loose paper
Loose sheets of paper can be used in so many ways in your art journal. You might:
Use some to make the pages of your journal
Use patterned or coloured paper to add interest to an otherwise white background, mounting shapes or strips onto the page.
Create pockets to store things you don't want to actually stick into your journal
Create doors and flaps, maybe to cover something you don't want immediately visible when you open your journal
Use paper to add tabs or dividers to your art journal
Paper is great for adding a quick pop of colour or pattern to a page without too much mess or fuss. And you don't have to wait for it to dry, like you do with paint!
Other embellishments
This category is huge, and it's another with a lot of possibilities which will vary from person to person. Consider things like:
Photos
Stickers
Washi tape
Tickets/other memorabilia
Fabric
Ribbon
Yarn/string
Sequins
Whatever piques your interest and whatever you like deserves to make this list, so get thinking!
Adhesive
While stickers and washi tape are ready to stick into your journal, paper and other embellishments will need an adhesive.
Of course, washi is also a great way to stick things into your journal, with the added bonus of being easy to remove.
Other options include:
Consider if you need to be able to remove the object after a while, or if you're happy for it to be stuck in permanently. If you want to be able to remove it, and the object is square or rectangular, you could slot it into your journal using sticky photo corners.
Gesso
Gesso is definitely optional rather than necessary if you're just getting started with art journaling. But what it's great for is turning almost any surface into a blank surface for you to paint on – paper, old books, cardboard, fabric even.
It's a particularly good way of taking materials that would otherwise be disposed of and turning them into something you can journal with.
If you're thinking of using cardboard that would otherwise end up in your recycling and turning it into a journal that you plan to paint in regularly, gesso is really useful.
This list is by no means exhaustive and there are lots of possibilities for what you can use in your art journal.
You'll soon learn what you like to use, so keep experimenting until you get into the swing of it.
Most importantly, though, don't go out and buy a load of new supplies just to try art journaling (unless you really want to, of course!). Start off using what you have.
How to make an art journal page background
So now you have the supplies sorted, it's time to get going. Right? Well, we all know that getting started can often be the hardest bit.
First of all, bear in mind there's no right or wrong in your art journal.
And secondly, all mistakes can be painted over… (that's another way the gesso I mentioned above comes in handy!)
So let's start off simple by creating a background. You can usually get over blank page paralysis by making a simple mark – any mark at all – on the page. Now it's not blank!
You could even write how you're feeling onto the page, before painting over it. This is a great way to get any difficult or vulnerable feelings or emotions out of your head and onto the page if you're worried about someone else reading your journal.
It doesn't even have to be a lot of writing. Often, just a sentence, or even a word or two, is enough to feel some release, particularly if your feelings can then be channelled into the way you add to the page.
For some super-quick ideas, take a look at my article 8 Ways To Make Art Journal Page Backgrounds In 5 Minutes.
Art journal prompts
Now you've got the page started with a background, you might find it easy enough to keep going. But if you're still a little stuck, I have some ideas to really get the ball rolling.
I've deliberately kept the prompts quite general and vague so you can work with them in multiple ways. Try:
Your favourite colour
A meaningful quote
Your family
Your favourite season
How you feel at that moment
Things you're grateful for
A memory or meaningful photo
Plans/goals for the future
Places you've been/want to visit
Favourite books/films/music
And you can get other seasonal ideas from my other blog posts:
I hope this post has given you a helpful overview of how to start an art journal. Let me know your questions or any tips you want to add by leaving a comment 😊
Sign up for my monthly emails of creative tips, tutorials and DIYs and get 31 free creative prompts!
You can unsubscribe at any time
About Stacey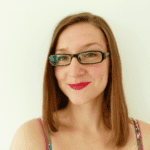 I'm Stacey and I'm a blogger, abstract artist and freelance writer. My aim is to help busy people feel inspired and get more creative with tutorials, hints and tips.
I live in Cardiff with my partner and dog, and in my free time you'll find me hiking, reading, painting or sampling a craft beer or two.